Celebration Evening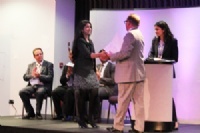 Congratulations to all our award winners

This year our Celebration Evening was held in Hounslow Civic Centre which was a perfect venue to recognise and reward the achievements of students from all Year Groups and staff award winners too.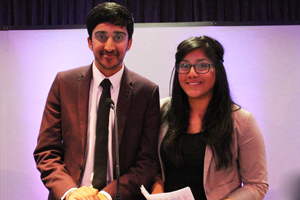 There was a vibrant opening to the evening as hosts Zarah and Aman, Head Girl and Head Boy (pictured left), introduced Gurdeep and Fabian our Dhol Drummers.
Headteacher Phil Ward then welcomed parents, students, staff and guests before making the "Headteacher's Address" helped by four students (pictured above right) who talked about their involvement in specific activities during the year. Jemisha talked about the British Council's Comenius Project which has seen Heston students work and travel with students from Turkey, Hungary and Spain. Omar, who is on the Student Council explained the increasing importance of the "student voice". Harmeet and Kabir outlined the amazing work they have done with Trinity, a charity for the homeless, including taking part in the Big Sleep Out.
The main part of the evening was devoted to the presentation of awards to students in three categories: Achievement, Progress and Contribution to the Ethos of their Year Group. Full details of all the award winners can be viewed by clicking on this link to the Celebration Evening programme. The presentation of the awards was shared between Mr Ward, Chair of Governors Kuldip Sidhu and our Guest Speaker Councillor Shantanu Rajawat.
Special Awards were presented to the Artist of the Year, Mona Deeq Qaaje (above left), Sports Person of the Year, Zaki Hakimzada (above right) and awards for exceptional attendance went to Indvir Sadhra and Sarbhjeet Kaur.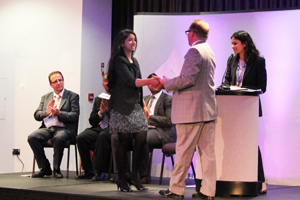 The final and most prestigious student award, the Headteacher's Award, went to Sixth Form student Jasleen Kaur (pictured right) for her excellent work and support for the School which was epitomised by her organisation of an Afternoon Tea with entertainment for Norwood Green Care Home residents - click here to read all about this event in the News story Jasleen's "most rewarding project".

Awards were also made to members of staff (details in the programme) with the final award for Long Service to Deputy Headteacher Mike O'Hagan (above centre) who has been at Heston for 25 years. Mr Ward praised Mr O'Hagan for his help and support and claimed the award should be for much more than long service and particularly for dedication.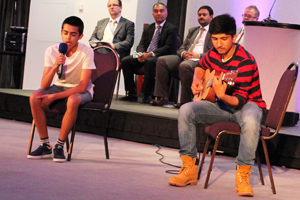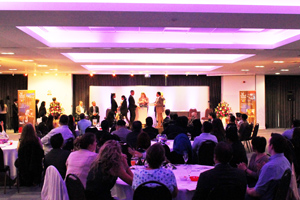 The audience were also treated to song and dance performances during the evening with Arjun and Inderpal performing Ordinary People (above left), Julia dancing a Punjabi dance (below centre) and Anisha singing Valerie accompanied by Mr Evans (below left).
Councillor Shantanu Rajawat (above right), a former Head Boy at Heston, congratulated all the award winners and thanked both parents and teachers for their contributions in helping and supporting the students. He also talked about his route from school to politics and said he "had a sense of being part of something much bigger at Heston due to the linkage the school has always had with the wider community" and he encouraged students to "find your calling and engage in the local community. Have a view and remember your opinions really matter. Be inquisitive and learn something new every day."
Councillor Rajawat concluded by saying "I owe Heston a great deal and it offers you a great deal too!"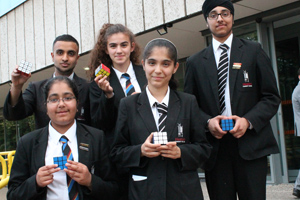 The Dhol Drummers, resplendent in outfits covered in flashing lights (pictured below), performed one last time before host Zarah and Aman, who did a wonderful job throughout the awards ceremony, brought the evening to a close and thanked Assistant Headteacher Margot Currie for organising such an entertaining and inspiring evening.

Award winners, accompanied by their proud parents, left with their award certificates and a pin badge and picked up one final "prize" - a Heston Rubik's Cube (pictured above).