ACTIVITIES TO HELP WITH ENGLISH TRANSITION
My name is Miss D'Lima and I have been the Curriculum Leader of English since 2017, having been part of the English team since 2013. It is my great privilege to have worked with many Year 7 cohorts in this time, who have flourished as readers and writers - even if they struggled at first.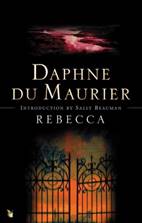 One of my favourite books is 'Rebecca'; the writer, Daphne Du Maurier, cinematically crafts an unnamed young narrator, who marries the wealthy widower Maxim De Winter. Upon returning with him to his home, Manderley, a gorgeous yet eerie country estate, she realises both the house and its residents are haunted by the memory of Maxim's beautiful, late wife - the eponymous Rebecca… But is it just a memory?
I love this book because it encapsulates a myriad of different genres: Gothic, romance, mystery, thriller and bildungsroman (a novel of development). For the reader, it is suspenseful and atmospheric - even the last line of the novel will continue to provoke questions!
Miss MacDonald's favourite book- Slaughterhouse 5 by Kurt Vonnegut
I read this book as a teenager and have re-read it many times since. It is about a World War Two bomber pilot called Billy Pilgrim who has been badly wounded in battle and now lies in hospital. Like his peers, he is psychologically damaged by war too. His memories of dropping bombs on German cities beneath him are fragmented and unreliable, sometimes they even seem amusing- he has to a certain extent lost his mind. The cruel power struggles that the human race acts out in the name of empire building seem absurd and surreal. Pilgrim imagines or in fact does - it is never clear- encounter aliens who ask him about life on our planet. I really like the image in the dialogue below that shows people can be trapped by historical circumstance.

"Why me?"
"That is a very Earthling question to ask, Mr. Pilgrim. Why you? Why us for that matter? Why anything? Because this moment simply is. Have you ever seen bugs trapped in amber?"
"Yes."
"Well, here we are, Mr. Pilgrim, trapped in the amber of this moment. There is no why."
Mr Ahmad's Favourite Book
One of my favourite books of all time is "The Reluctant Fundamentalist" by Mohsin Hamid, a British-Pakistani writer. It is a novella that can easily be read by any age group. The protagonist is Changez, a man who loves America, but whose love turns to hate when he is targetted by racists, following the 9/11 attacks. On the surface, the book seems to support terrorism:

"I stared as one — and then the other — of the twin towers of New York's World Trade Center collapsed. And then I smiled. Yes, despicable as it may sound, my initial reaction was to be remarkably pleased."

But the truth is that it does not. The beauty of literature is to be able to discuss sensitive things, with a view to uniting humanity, not dividing it. This book does that wonderfully, as can be seen from the fact that it won many awards in the West. Hamid is also one of Barack Obama's favourite writers, who obviously would not condone terrorism against America. All of this complexity shows the power of literature!
Miss Currie's favourite book: The Lacuna by Barbara Kingsolver
Having read 'The Poisonwood Bible', which I enjoyed, I turned to another of Barbara Kingsolver's novels and found it more engrossing than the former.
Drawn initially by my lack of understanding of the title, I researched the word 'Lacuna' and was puzzled by the writer's choice. Barbara Kingsolver takes us on an journey from the Mexico City of the artists Diego Rivera and Frida Kahlo to the America of Pearl Harbour, FDR, and J. Edgar Hoover. We even meet Trotsky, the exiled Russian leader.
The protagonist, Harison Shepherd, meets and interacts with all of the above, and only, right at the end of an epic novel, does the reader discover how aptly the novel is named.
Miss Kaur's Favourite Book: The Shining, Stephen King
I vividly remember reading this book for the first time when I was in year 10, in broad daylight on the way to school and feeling the ice-cold chill of fear. That's how scary it was! King is widely regarded as one of the greatest horror writers of all time and this is, perhaps, his greatest novel. Initially you feel sheer terror for the novel's young protagonist, Danny, as he navigates the haunted halls of The Overlook Hotel. Then, as the novel progresses, King is able to combine those frightening moments with touching and sad moments between a family that is being torn apart by mental health struggles and the evil forces in the hotel.
My Favourite Quote:
"That's your job in this hard world, to keep your love alive and see that you get on, no matter what. Pull your act together and just go on."
Miss Ghatore's favourite book - Jane Eyre, Charlotte Bronte
"Having read this book as a teenager, I was awestruck by Jane Eyre's beautiful blend of Gothicism, horror and feminism. It revolves around an orphan, Jane, and her fight for freedom and independence as she matures from a rebelling young child to a passionate and strong young woman, who sticks by her beliefs no matter what people (or society) say.
The atmosphere is also spooky and eerie - read on and you'll encounter a cruel aunt, a mysterious and brooding Mr. Rochester and a strange madwoman in the attic …
My favourite quote:
'I am no bird; and no net ensnares me: I am a free human being with an independent will'