Sixth Form Open Evening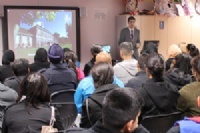 Visitors learn more about life in the Sixth Form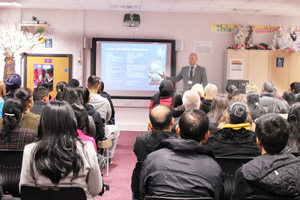 Heston's Year 11 students as well as students from other schools who are keen to join our Sixth Form filled the Hogarth Building for the Sixth Form Open Evening.
Students and their parents found out more about the subjects and courses they can study and what life is like in the Sixth Form at Heston.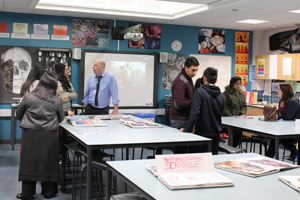 Mr Hywel Evans, Learning Co-ordinator for the Sixth Form (pictured above), welcomed the visitors in the Learning Resource Centre and outlined the wide range of Post-16 courses that are available. He also highlighted the impressive results achieved and detailed some of the top universities where Heston students are now studying.

Aman, a Year 12 student, and Mr Shaun O'Keefe, Assistant Learning Co-ordinator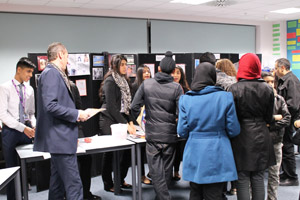 responsible for Year 12 explained the outstanding support Heston provides to help smooth the transition to the Sixth Form. Both of them also made it very clear that Sixth Form study is significantly harder than GCSE work … but also that you would be studying the subjects you choose to study.
To help with this very important choice of subjects all departments had displays of Sixth Form work and were able to outline the specific areas covered in their specialist subject – including a range of new subjects offered in the Sixth Form. Careers Advisors were also able to explain the links between subjects and university courses and careers as well as suggesting particular pathways based on students interests and the subjects they were keen to study.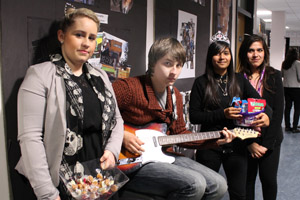 Current Sixth Formers provided a student's perspective on both the subjects they were studying and the opportunities avaialable outside the classroom in Years 12 and 13. They were particularly popular as they provided music and sweets with their advice!
External student's wishing to come to Heston in the Sixth Form need to return their completed application forms by Friday 13th December.