Heston's Past, Present and Future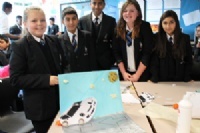 Heston's history and future will be featured on Heston Henge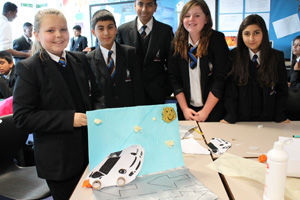 The Art Super Learning Day saw students investigating Heston's history and considering its future then creating stories and models to represent their discoveries and predictions. The results of the students' creativity will be judged and many will feature in the Heston Henge sculpture that is being created to celebrate the School's 80th Anniversary.
The sculpture is being created by Charlie
Humble-Thomas from the University of the Arts London who will be at the School as Artist in Residence this year and will work closely with students to get their contributions to the final artwork. The sculpture will feature limestone arches with multiple oak panels, each of which will depict the past, present or future of Heston through the students drawings and words.
Key dates in Heston's history were discussed and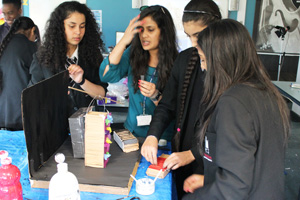 artwork produced to illustrate these events. These started with the earliest Saxon settlements from 600 AD and also included details on wheat farming that produced the "best bread" Queen Elizabeth I had ever tasted, the infamous highwaymen in the 17th and 18th centuries, Chamberlain's "Peace in our time" speech in 1938 at Heston Aerodrome and the development of Art Deco buildings along the Great West Road.
The present and future of Heston were also covered through the students' own experiences and their very imaginative ideas about what Heston will be like in the 22nd century and beyond.