Zombies terrify students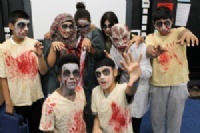 Dead Tension, a zombie based production, terrifies and entertains ...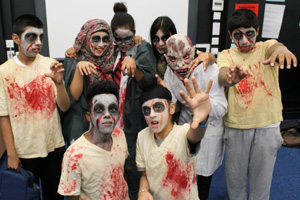 Anyone passing the assembly hall during the School Drama performance of Dead Tension on the last day before Half-Term would have been concerned by the bloodcurdling screams of both actors and the audience. The Zombies went about their work doing what they do best ... scaring the audience of students and parents!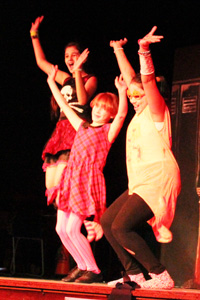 The production, Dead Tension, began life as short script from a Film Club that was run by Sam Saib a Learning Mentor. Sam and Miss Jones have been running a Drama club together for over a year. In and out of the Drama Club the script was adapted and extended to become a horror story set at school. Filmed sections of the play were undertaken by Sixth Form students. The play takes place over the course of an evening. A group of students decide to visit a graveyard for a dare late at night. Realising that they can't go home they end up spending the night in school where it becomes a terrifying place to be.

As well as the cast of actors who performed superbly there was also excellent dance routines from the dancers (pictured right - above and below)) and great vocal support from the supporting singers (pictured left below). As well as being terrified the audience were also very well entertained by the students.
| | |
| --- | --- |
| | |
Miss Jones said: "It was a fun experience writing and developing a script and seeing it grow into a full length play. The students worked really hard to make the play a success. I was really impressed with how many Year 7 students were willing to join the cast very early into joining the school."