Refugees and Passports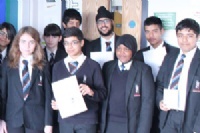 Red Cross and Amnesty International representatives host Year 9 workshops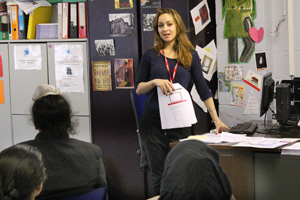 Red Cross and Amnesty International speakers visited school to discuss citizenship issues with Year 9. As part of their Personal, Social, Health and Economic study, Year 9 had the opportunity to question and participate in workshops which focused on refugees and asylum seekers. Students and teachers felt the workshops were a useful way to discuss these key issues which are relevant to the local community.
Year 9 students were also introduced to the Leadership Passport Scheme, this exciting opportunity allows Gifted and Talented students of the Year 9 cohort to work towards obtaining bronze, silver and gold stripes for their blazer as a reward for completing leadership tasks.
This year long project will help to develop their skills in the following categories: Creative; Physical; Communication; Community and Charity; Enterprise and Academic.
Students currently involved in the scheme are pictured below with Mr Williams (Year 9 Learning Co-ordinator) and Miss Razzaq (Year 9 Assistant Learning Co-ordinator). They are eager to be a part of the scheme and are especially looking forward to developing the transferable skills needed for GCSEs.