New Sports pitches for All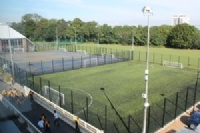 New state-of-the-art Astro pitches for students and the local community
Heston students and the local community are benefiting from the creation of new state-of-the-art all-weather pitches that can cater for football, hockey, netball, rugby, cricket and many other sports.
Work was carried out over the summer holiday and now these pitches are in use. Students' PE lessons are taking place on the pitches and they are able to use them at break and lunch time too – t
hey are proving to be very popular. The pitches are also available for hire outside school time for local clubs and groups to use.
The pitches look very impressive surrounded by new fencing and are able to be floodlit for evening use. The green pitch, which is used mainly for football, benefits from the latest development in artificial grass technology; the surface is filled with sand and rubber. It looks like grass and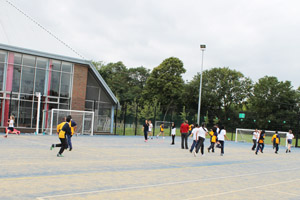 offers similar playing characteristics. The rubber infill allows studded boots to be used for extra grip, in addition to providing extra shock absorption.
The blue pitches and courts have had the latest multi sport surface installed called Matchplay 2 which is an excellent multi sport surface and offers a more natural feel as it is sand dressed. These pitches can cater for a wide range of sports including football, netball and hockey.
Hiring our pitches and sports hall
Groups or clubs interested in hiring the pitches should email or call the Sports Hall (contact details below).
As well as the pitches described above we also have a full size 11-a-side grass pitch (non-floodlit) and an indoor sports hall that can also be used for indoor five-a-side football, badminton, cricket (nets), basketball, volleyball, and netball.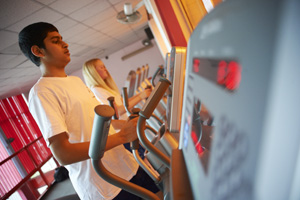 Individual membership
Individual membership of Heston Community Sports Hall is also available which gives you use of the gym and weights room as well as access to group classes - see the Sports Hall page for more details. If you are interested email or call the Sports Hall (contact details below).

Our facilities also include ample parking, changing rooms and showers for all customers.
Sports Hall telephone: 0208 570 6544
Sports Hall Email: sports@hestoncs.hounslow.sch.uk