Celebration Evening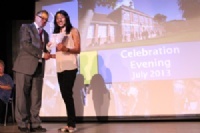 Year Group and Department Awards were presented to students on 18 July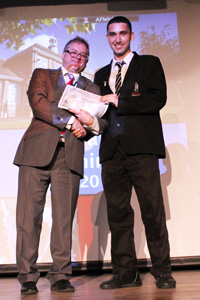 Head Boy Amarjot Rehal was Master of Ceremonies for this year's Celebration Evening and Headteacher Phil Ward presented certificates to all the award winners.
Congratulations to all the winners – click here to view details from the evening's programme.
Special mention should go to Javad Khan - 11 White (pictured left) who received the Headteacher's Award and Bilal Gaj - 11 Red (pictured below right) who was presented with the Governors' Award

Mr Ward's address included the quote: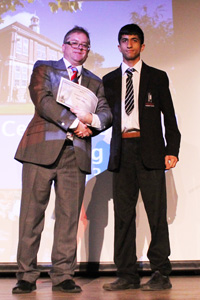 "The future of a state depends upon the education of its youth".
He then went on say he was confident that Heston students would make a positive difference: "When I look at the students before me today; when I see their hard work; when I share in the celebrations of successes; when I am witness to their kindness and support for each other; when I hear of their fund-raising schemes; when I hear tell of their exemplary conduct on trips and activities, I have every confidence that the young men and women who leave Heston Community School will be precisely the kind of young people who will make a positive difference to the world."