A great end to a great year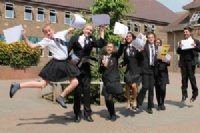 "A perfect year at Heston!" ... with awards as well for Year 7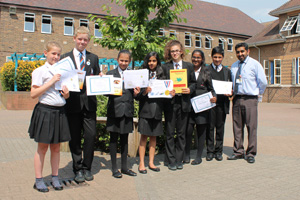 The final Year 7 assembly celebrated the successful transition from primary schools. The students were presented with over eighty achievement awards from several faculties as well as some students receiving 1,000 vivos for attendance and behaviour.
Mr Andhee, Learning Co-ordinator for Year 7, said: "I am very proud of this Year Group and I am confident that the start they have made at Heston will stand them in good stead on what I believe will be a smooth road to further success. I am delighted that I will be able to observe their journey through the School as their Learning Co-ordinator in future years."
The following students, who are pictured above with Mr Andhee and below celebrating, are multiple award winners. Congratulations to (from left to right): Faith, Jakub, Jasmin, Anisha, Lara, Asvina and Umayr.
This is what some of the award winners thought of the awards and their first year at Heston: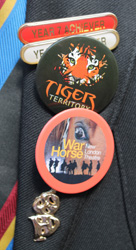 "I was shocked yet really, really happy – the people that got me here were my parents, teachers and friends" Asvina – 7 Yellow
"A perfect year at Heston!" Jasmin - 7 white
"Heston has unlocked abilities I never knew existed" Faith – 7 White
"I was ecstatic to win three awards … a great end to a great year!" Lara – 7 Orange
"Proud and perfect .. . only at Heston!" Jakub – 7 White