Jack Petchey winners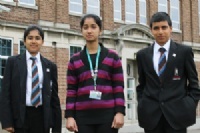 Congratulations to Sonia, Jasleen and Awab - Summer Term award winners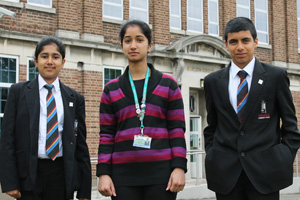 Jack Petchey award winners for Summer Term have been announced and details of their achievements are outlined below. They will each receive £200, a certificate, a badge and be invited to the annual celebration evening. The winners are chosen by members of the Senior Student Team.
Summer Term Winners:
Sonia Randhawa 7G
Sonia has been a great help to teachers and fellow students and is always thinking of others rather than herself. She is a great role model for other students through her hard work and support for others. She always thinks of how she can help someone rather than helping herself.
Awab Patankar 9G
Since year 7 Awab has personally raised just under £1,000 for the Shooting Star CHASE hospice, which not only is an amazing amount of money but also help inspired his Year Group to raise over £7,000. Awab is seen as role model by his peers and when necessary supports them with their issues.
Jasleen Kaur 12G
Jasleen has worked incredibly hard since joining the School in Year 12, and coped very well with her transition to the UK. Jasleen has helped out at numerous lunchtime, after school and weekend workshops. Helping other students with their studies, organising their work and helping them put their folders together.
Even though Jasleen has given up a huge amount of her time to help staff, students and the School, she is still on track to achieve an incredible set of results - Double Distinction Star in both BTEC National Business and ICT and is very close to an 'A' for A Level Mathematics.
Significant mentions and winners of 200 vivos are:
Gagendeep Dubb 9O – Charity work and improved effort
Mahir Abdi 9W – Always positive
Laraib Malik 9G – Good friend and always tries her best
Harris Zaman 9W – Improved effort and grades
Jemisha Bhalsod 9R – Always tries her best and work on Comenius Project
Jaskirat Singh 9O – Great commitment on target in all subjects and work on Comenius Project
Noera Azimi 9R – Positive attitude
Sakura Suzuki 9P – Positive role model
Meghna Pathak 9W – Does well in lessons and a great friend
Greta Seiliute 7W – Helping others and work at the Heston Dance Academy
Mira Kalsi 7G – Coping with difficulties, having perseverance and positive attitude
Matthew Aumeeruddy – Positive role model/ attitude and his community work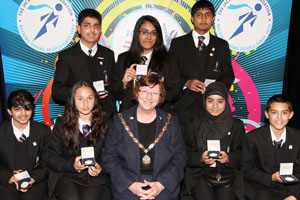 It has been a busy month as far as the Jack Petchey awards are concerned as past winners attended a Celebration Evening (pictured left) that recognised the achievements of all award winners throughout the Borough of Hounslow.
Bethany Mann, a winner in Spring Term, surprised her Tutor Group 8 Orange by spending her prize money on t-shirts for them to compete in on Sports Day.
The shirts certainly looked good and maybe they were a factor in helping Orange House perform so well on Sports Day to come out as overall winners. The pictures below show 8 Orange in the t-shirts and also by the track cheering Bethany on in the relay race.