Guy's Hospital visit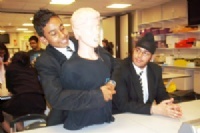 Year 10 visit Guy's Hospital for a Medical Activity Day
A group of Year 10 students visited Guy's Hospital for a Medical Activity Day and had the opportunity to get some hands on experience as well as speak to current King's College medical students.
The students carried out a number of medical exercises including taking blood pressure, simulating taking blood from a patient, artificial respiration, stitching wounds as well as getting advice on healthy diets.
Harmeet Grover (pictured below right checking blood pressure levels) summed up the day: "Personally, I really enjoyed the day because it was an opportunity for me to get an insight into medical careers and help me to make my decision about what I want to do after I finish my A levels. The day was really fun, I enjoyed the activities and was able to ask the medical students questions. For me, this was extremely important as I was able to get information, as these students had "first-hand" experience and were able to tell us what we need to do to get to their current positions."
This was a prestigious trip and a privilege for more able students. Opportunities like these are limited but enriching and rewarding.