Summer Concert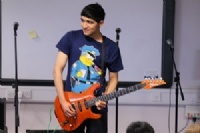 Over twenty acts entertained a packed LRC at this year's Summer Concert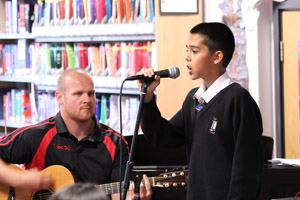 Heston's Summer Concert saw over twenty acts perform to a packed LRC.
Soloists and Groups performed and there was also some improvised drama and dance. The performers ranged from Year 7 to the Sixth Form and enjoyed performing to a very enthusiastic audience of students, parents and teachers.
To view more of the acts click here to visit our Galleries page.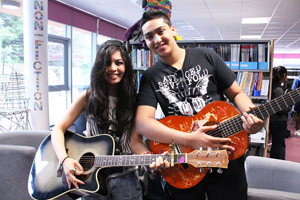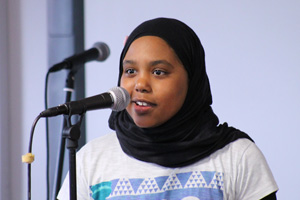 Miss Georgina Martindale, who accompanied a number of acts, said " What I most enjoyed was the pupils taking the initiative to work together arranging accompaniment by other students. 'The Legacy' are a group of year 9 students who have been rehearsing for weeks after school to put together their song "It's Not Me It's You". Ryan (the drummer of the band) only started learning the drums a couple of months ago and has been practising so much that he is able to perform a confident, strong drumbeat to the song. It was great to see some girl groups such as Gursharan, Anisha and Gurman perform "Delilah" and Hollie, Faith, Anisha and Sana were another performing their song "Ready or Not" which really had the crowd going!
"Amongst group performances there was some very strong solo vocalists such as Komal (7R) performing "Impossible", Joanna (9O) "Vienna", Indi (8Y) "Prince of China" and a first time performer Nadia (7W) who sang "When I was your Man". A much enjoyed solo performance by Jasmine kept the audience interested as she played two religious pieces on her Harmonium which was fluent and effortless!
"All the acts worked really hard for the final performance and we hope to have as many performers for the concerts next year!"