Oxford Graduate returns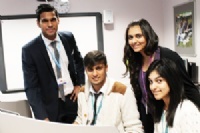 Rajesh, an ex-Hestonian who studied at Balliol College, returns to work with students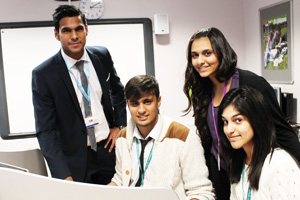 Rajesh Chopra, who studied Experimental Psychology at Balliol College Oxford when he left Heston Community School five years ago, has returned to coach Sixth Form students to help them to recognise and fully utilise their talents and potential.
Rajesh (far left in the picture above) who completed a Masters in Occupational Psychology at Nottingham University after his time at Oxford works for Glow at Work, a business psychology consultancy (www.glowatwork.com) . He developed his interest in Psychology at Heston where he studied the subject along with History and Biology in the Sixth Form.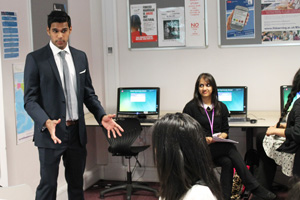 Students who are attending a series of workshops with Rajesh were selected based on their applications which outlined how they felt they would benefit from the sessions.
Rajesh said, "I'm delighted to be back. It gives me great pride to be able to help these bright and talented sixth formers develop their mind sets as well as their skill sets. Having mental resilience as well as the confidence in their skills and abilities will be so important going forward after Heston."