Heston Showcase
Drama, Dance and Music as students showcase their skills.
Drama, Dance and Music performances by students from Years 7 to 11 made up a very entertaining "Heston Showcase" on Thursday 18 April.
The show started with Devon and Manpreet "playing" instruments not often used, plastic cups, to perform the aptly named Cup Song.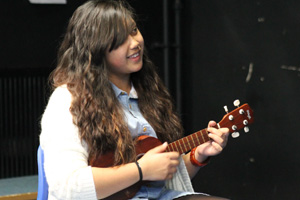 Leena accompanied her rendition of What's My Name on a slightly more conventionally instrument – a ukulele. Songs were delivered with passion and enthusiasm by students, some of whom were performing in front of an audience for the first time – though you would not have thought so based on their confident performances.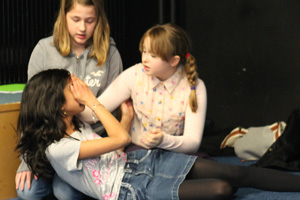 A variety of Drama pieces were performed some written by the students and some providing an opportunity to rehearse GCSE Devised Performances. The performances ranged from the thought provoking situations linked to family tragedies to the hilarious dancing old age pensioners.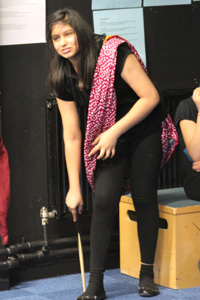 Ms Clair Jones, who organised the show, with Miss Martindale said: " I was very impressed with not only the standard of the performances but also the enthusiasm shown by students in attending rehearsals, writing scripts and preparing cues for the music. The levels of commitment shown by them were really admirable."