Neha's Community Service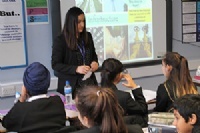 Year 12 student helps teach Geography to 8P
Year 12 student Neha Saroyia is helping prepare and deliver parts of Miss Davies's Geography lessons to 8 Purple. This is part of Neha's community service, something all Sixth Form students do.
Neha explains below why she wanted to get involved teaching Geography and what she thinks of it so far: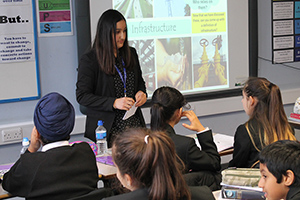 "I wanted to do community service with Miss Davies because I wanted to work with a class and also because I really enjoyed GCSE Geography last year. I absolutely love working with 8 Purple and Miss Davies. The topic 8 Purple are learning is Hurricanes and I was given the opportunity of creating a starter last week and I really enjoyed leading it. I got to do something that I didn't think I would do - it was fantastic!"
Despite thoroughly enjoying her teaching experience Neha has ambitions to pursue a career in Medicine in the future.