Bodyguard training for Year 7, 8 & 9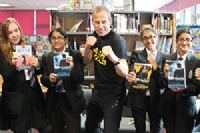 Author Chris Bradford's Workshops were entertaining and explosive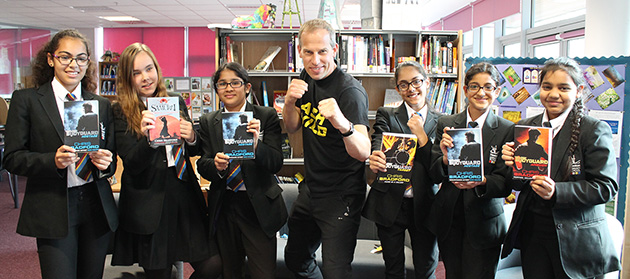 Chris Bradford's Author Workshop for Year 7, 8 and 9 boys was full of explosions, iaido (samurai swordsmanship) and martial arts.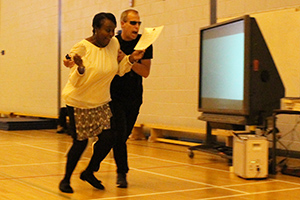 Chris is the author of the Young Samurai and Bodyguard series and is a very popular author at Heston. He says about his writing: "I write the type of books I'd want to read - books filled with relentless action, believable characters and a plot that twists and turn through the pages!"
The day started with Bodyguard Training and this was demonstrated perfectly by Chris when he "saved" Miss Hurley (pictured above right) from a kidnap attempt when she was introducing him at the start of the day.
Chris also read passages from his books which he acted out with volunteers from his audience.
As well as two workshops Chris was also interviewed by students for their magazine (below left).
Ms Birk, English Teacher, was delighted with the day: "It was a pleasure to have Chris Bradford work with the Year 7, 8 and 9 boys on Monday. His workshop was interactive, informative and innovative. Students walked away understanding the responsibilities of a bodyguard and a samurai and were exposed to the mastery of martial arts. It was a joy to see pupils realise how exciting stories can be, especially when Chris was able to bring them to life so vividly."