Featherstone Primary learn about "Big School"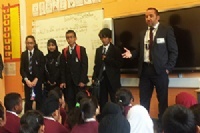 Year 7 students talk about life at Heston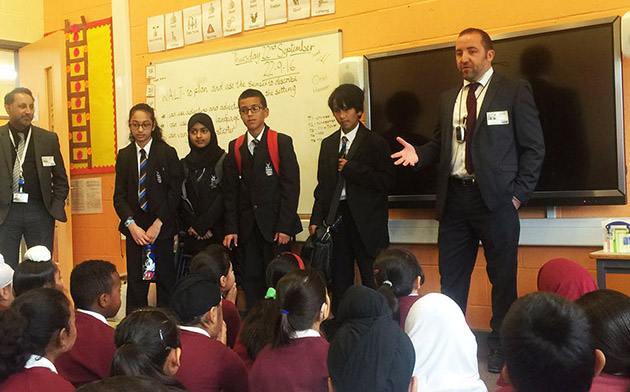 Heston Year 7 students were invited to Featherstone Primary School to give a presentation to Featherstone's Year 6 students about the transition from Primary to Secondary school. The students gave a warm, humorous and encouraging talk and left the Year 6 students feeling more positive about their move to 'Big School'.
Mr Williams (Heston's Year 7 Learning Coordinator), Sam Saib (Learning Mentor – Heston) and the Year 7 students hosted a Q&A session at the end with question ranging from 'What clubs are offered?' to "Mr Williams, do you have any cooking tips?'
Ms Das, Year 6 Transition Coordinator at Featherstone, said: "I would like to thank you, the students and Sam for spending time presenting a warm and friendly insight into Heston. The pupils were very impressed with it and I know there are some who will be at your Open Evening. Please pass on our appreciation to the students."
Heston Community School's Open Evening is on Thursday 29th September 6pm to 8pm.