Euro Football triumph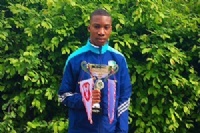 Year 9 William was a Euro winner even if England weren't!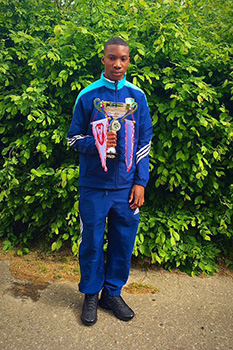 Congratulations to Year 9 student William Peters who has succeeded where England failed by returning from a football tournament in Europe as a winner.
William plays for FC Real who are based in Chiswick and as a key member of their Under 15 squad he competed in an international tournament in The Netherlands.
FC Real had a 100% record winning all seven games against top international teams. William plays as a striker or winger and scored 2 goals to help his team win the tournament and be presented with a very impressive trophy.
William is clearly a talent to look out for in the future and has had trials with a number of professional clubs including Chelsea, Arsenal and QPR. Footballing skills clearly run in the family as younger brother Malachi, who is in Year 8, also competed in the same tournament at Under 14 level and finished fourth overall.