Celebration Evening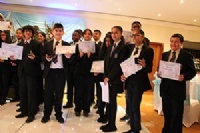 Well done to all our Award Winners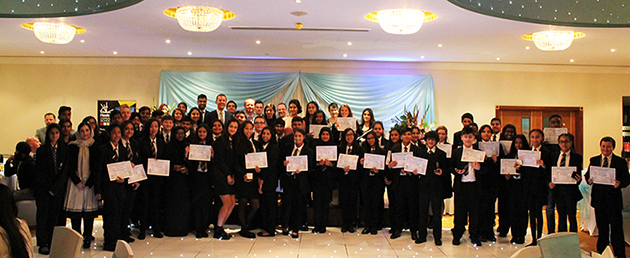 The Riverside Venue was the location for our Celebration Evening on Monday 11th July. Students and staff were rewarded for their work, achievements and contributions to the School throughout the year.
The evening started with hosts Amrit and Karishma, Heston's Head Girls, welcoming everyone and introducing our Dhol Players to provide a lively start to the proceedings.
Amrit and Karishma were then joined by Myah (Year 9) and Jakub (Year 10) to present their student reports. They all told of their many and varied experiences as students at Heston including involvement in clubs and committees as well as enjoying trips and life generally in a warm, friendly and caring environment. A common theme throughout the evening was how Heston provided so many opportunities for students to explore and push themselves in new areas.
Mr Mike O'Hagan, Deputy Headteacher then made the Headteacher's address in Mr Ward's absence due to illness. Mr O'Hagan explained that he had only intended to stay at Heston for two years but has now completed 28 years at a school that he described as "very special" due to the excellent work, cooperation and values of students, parents and staff. He went on to explain that … "this very effective partnership delivers results … leading to academic success … Heston is in the Top 3% of schools nationally for added value."
Learning Coordinators hosted their Year Group awards with each award winner receiving a certificate and special Celebration Evening Medal. Special and Staff Awards followed. Click here to view the programme for the evening with details of all award winners.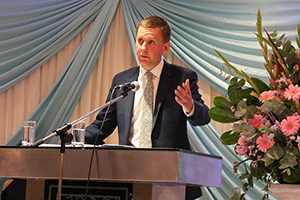 Our excellent hosts then introduced Guest Speaker, Councillor Tom Bruce who is a Heston Old Boy. After congratulating all the award winners he picked up on the Growth Mindset theme that "failure is the birth place of success" and that we should all "embrace failure … learn from it." He talked specifically about two men whose failures and determination made them great successes in business and sport – James Dyson made 532 prototypes that failed before he developed the successful Dyson Vacuum and Michael Jordan did not get into his High School basketball team but went on to be a truly great basketball player. He encouraged all students to have this same determination to succeed.
Another energetic performance from Ajeet, Taran and Karan, our Dhol Players, was followed by a delicious buffet and a lot of photography from proud parents!
More images from the Evening can be viewed on our Galleries page.