80th Anniversary Sculpture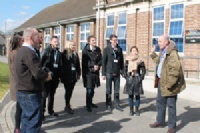 Students help to create a sculpture to celebrate the School's 80th Anniversary.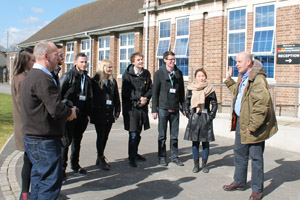 Initial designs and ideas on how Heston students would be involved in the creation of a sculpture to commemorate the School's 80th Anniversary were presented to a panel made up of students, teachers and governors.
Six concepts were presented by shortlisted artists from the University of the Arts London, ranging from arches and banners to benches and maps. Oak featured prominently as the material used to celebrate an 80th anniversary as did the local community and key dates in the School's history. The concepts were based on a brief from the School that also asked the artists how they would involve the local community and the School, particularly students, in the creation of the work.
After viewing the presentations the panel met to provide feedback to the artists who went away to refine their proposals and create their initial designs which will be used to select a winner.
The short listed artists also took the opportunity to view potential locations for their artwork and are seen above right with David Wardill, Assistant Curriculum Leader for Visual Arts.
The winner will become "Artist in Residence" at the School based in their own workshop where the final sculpture will be created.