EU Referendum - Year 9 result is in
It was very close 2 vote difference - click image to see the result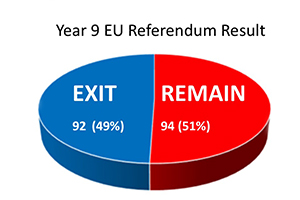 The Year 9 EU Referendum results are in, with the 'Remain' side winning by just 2 votes, 94 to 92 (51% to 49%).
A very close result, as was being predicted nationally prior the the vote. The result also provided a clear illustration just how important it is to vote.
Mr Abdulla, Learning Co-ordinator for Year 9, who organised debates and the voting commented on the whole process:
"It was edifying to listen to the well thought through measured views of our students, presenting their balanced arguments on a topical and significant issue – The EU Referendum.
I was extremely proud of the year group and their participation in the discussion, it was evident through listening to the debate that students took the time to do wide ranging research on a number of issues relating to the Referendum. The students on the panel leading the debate worked tenaciously, researching, formulating and executing their arguments in order to persuade the audience to agree with their viewpoint. They all were a credit to the School and proved that rather than being disengaged young people they do want the opportunity to explore and contribute to the issues around them.
The importance of being informed of matters that affect the wider community and also provided students clear evidence of the importance of their opinions. Listening, reasoning and respecting differing views are fundamental characteristics of developing intelligent young people to contribute positively in society."