Science Bronze Medal for Meriame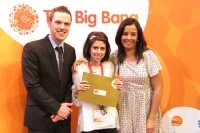 Meriame's interview with Professor Brian Cox results in a bronze medal at the Big Bang Fair.
Meriame Berboucha from Year 13 (pictured right) was one of over 200 students invited to exhibit their projects at the Big Bang Science and Engineering Fair at Excel from14-17 March. She then progressed to the last five based on her excellent exhibition display and her knowledge of, and enthusiasm for her cancer research project.
Her project was the result of work she carried out at the Imperial Centre of Translational and Experimental Medicine assisting with cancer research relating to the effectiveness of inhibitors on cancer proliferation.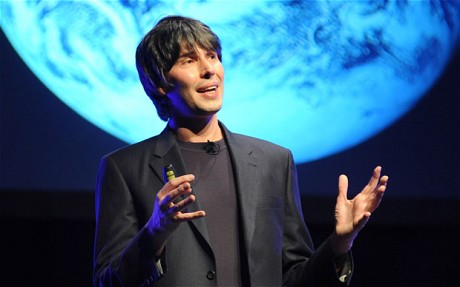 In the next judging session she was quizzed about the project by the celebrity judging panel of Professor Brian Cox (pictured left), Ben Miller (comedian, actor and science author), Rachel Riley (Countdown host and maths expert) and two Nobel prize-winners, Professor Ada Yonath and Sir Tim Hunt.

The judges were clearly impressed as Meriame was presented with a bronze medal and £150 for her highly commended work in the Senior (17-18) Science and Maths category at the awards ceremony. Richard Noble, the former holder of the British land speed record whose Bloodhound car is hoping to reach a speed of 1,000 mph and break the world land speed record, presented the awards.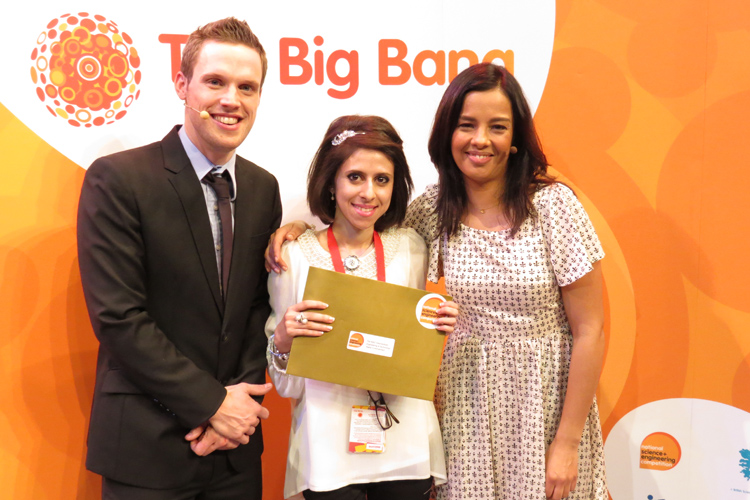 The awards ceremony was hosted by television presenters Liz Bonnin (Bang Goes the Theory) and Greg Foot (Sunday Brunch) who are pictured right with Meriame.
Meriame said: "The National Science and Engineering Competition was an incredible experience. Exhibiting my work at the Big Bang Fair was amazing - seeing the faces of young scientists light up towards my research project was irreplaceable. Meeting Professor Brian Cox was definitely the highlight of the fair! Although the celebrity judging was a rather gruelling process, I loved every second of it. I cannot believe that a little research project over the summer has won me the title: Highly Commended 2013. "