Jack Petchey Celebration Evening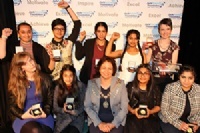 Congratulations to all our Jack Petchey Award winners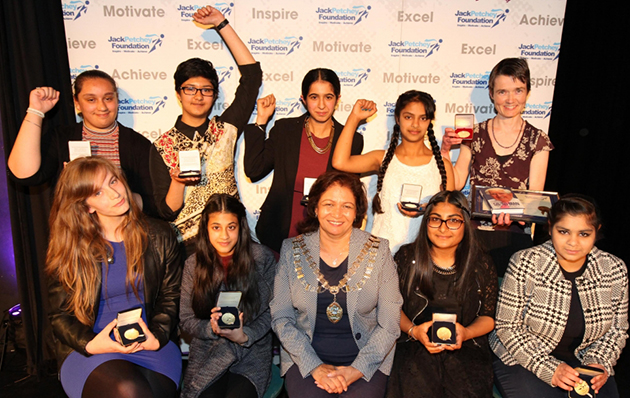 This year's Jack Petchey Award winners attended a Celebration Evening at Waterman's Theatre on Wednesday 25th May to receive their awards. They are pictured above with newly appointed Mayor of Hounslow Councillor Ajmer Grewal.
It was a lively event, fully supported by family and friends.
The Award winners are pictured below being presented with their medals by Councillor Tom Bruce who is the Hounslow's Cabinet member for education and children's services. There are also details of their nominations based on students' and teachers' comments outlining why these amazing students deserved a Jack Petchey Award. As well as the medals the students receive money to spend on an activity for their school friends – some have already been to a show, Matilda.
Congratulations to them all!
Ramenjit Singh – 12B
After a significant health issue resulting in a lengthy absence from school, Ramenjit has been an inspiration to fellow students and staff with his determination to succeed in all he is able to undertake. His positive attitude, irrepressible humour and the example he sets to us all daily set him apart. He is truly a role model for everyone.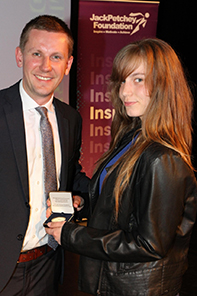 Elvira Lajqi – 11O
Since Year 7 Elvira has been committed to Heston's Basketball team. During her time on the team she has been part of many victories and has supported her teammates when the result hasn't been so sweet. She is a great team player and has been nominated by many of her teammates, as well as been commended for her resilience and attitude towards learning. She stands up for what is right and is always seen to help people, regardless of what others think.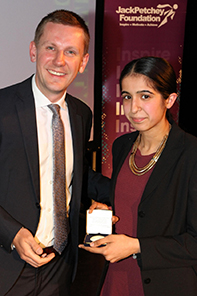 Navjot Kahlon – 11O
Navjot is an intelligent, hard-working and thoughtful member of the school community and has been nominated by many of her peers and teachers alike for being a students who is mature, reliable and motivating. Navjot is a student who always puts others before herself. Her exceptional work ethic, polite and well-mannered nature and her dedication to life at Heston Community School makes her a fantastic role model.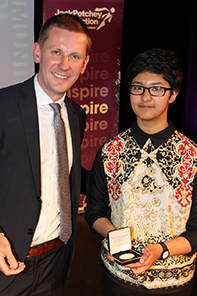 Eesha Singh – 9G
Eesha is a quiet unassuming student, who does extremely well in all her subjects. Recently she has shown great determination in all lessons and is considered a 'support' by many of her peers. Eesha always shows genuine interest and engagement in all subjects and regularly deepens the understanding of her classmates through her contributions to class discussions. She is a polite and caring member of the school community.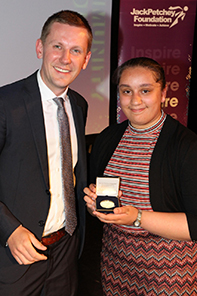 Simranjit Arora – 8R
Simranjit demonstrates a high level of efficiency and has worked extremely well with other students. Many teachers have commented on the care she takes with her class and homework and that she has presented herself as having a Growth Mindset. She is at all times polite and well-mannered and has been highly praised as an 'asset' to her form class.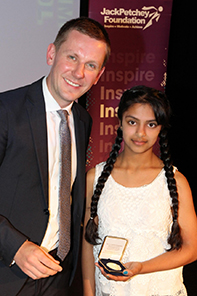 Simrat Kaur – 7B
Simrat is a positive, mature and enthusiastic member of the school community, participating in a wide range of after school activities and being an exemplary student. Over the course of the year she has been called on to be courageous within the family environment, adjust to new and unknown circumstances and to be a protector for her younger sister. Throughout all that has happened, her positivity and courage have made her a role model for her peers.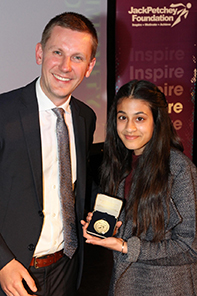 Myah Matharu – 9B
Myah is strongly encouraging of peers through her positive and helpful approach. She contributes to school life through participation in events and also gives up substantial time to serve on committees e.g. Marketing Group.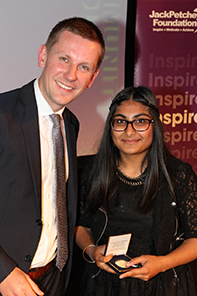 Rhea Chodha – 9G
Rhea has made a strong contribution to the ethos of the school through her positivity and her resilience means she is never negative. Outstanding punctuality, attendance and attitude to all aspects of school life and an inspiration to her peers.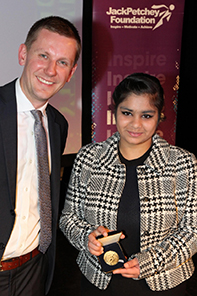 Pardeep Nangpal – 10P
After moving to Heston from Afghanistan in Year 8 with no formal schooling, Pardeep has made exceptional progress and displays immense positivity. She involves herself in a wide range of activities, supports her peers and offers her support to staff and students regularly.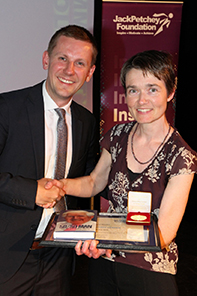 Leader Award: Ms Emma Davies
Ms Davies perfectly demonstrates what it is to be a Heston Teacher and has been given the Leader Award for her continuous hard-work and support for students and staff. She is an efficient and exceptional practitioner who goes above and beyond the role of a teacher – this award was voted for by the students and here are some of their comments:
Miss Davies is the best! She gives so much of her time to us and makes sure the class all understand
Miss Davies is my most supportive teacher and she deserves the leader award because her actions are always so self-less."
Miss Davis is the best form tutor - she's always putting us first and helps us in ways that no one else does - we love Miss Davies! Even if we don't always show it - we really appreciate everything you do."