Shakespeare Puppet Show
Twelfth Night performed by Nexus 7's specially created puppets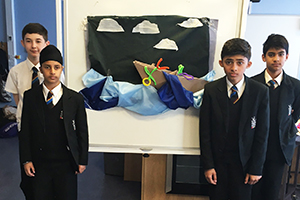 Nexus 7 students created their own Puppet Show to help with their understanding of Shakespeare. Ms Korzeniowska outlines how this unlikely combination worked:
"Having to study Twelfth Night as part of their English curriculum, the students approached the task with enthusiasm and a great deal of creativity.
The Art Department kindly built and decorated a puppet theatre, and the students created the backdrops and made puppets of the characters out of wooden spoons and scraps.
These activities contributed greatly to the students' development as collaborative learners and also ensured that they absorbed the meaning, characterisation and plot of the play without realising that the language was difficult or the concepts were in any way strange.
They had great fun presenting the play to the group, and making the puppets interact, which they did in an extremely professional way."