10 Red win £3,000 for Trinity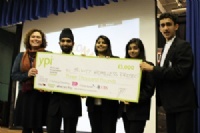 Charity presentations impress the judges in the Youth and Philanthropy Initiative final.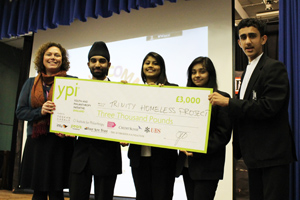 Trinity Homeless Projects will receive a £3,000 grant from the Youth and Philanthropy Initiative (YPI) thanks to the presentation made by four Year 10 students from Red House.
The winning team of Harmeet Grover, Simranpreet Kaur, Manisha Kharay and Kabir Sidhu are pictured left with Alison Evans, Trinity's Fund raising Manager.
YPI organise these competitions to provide students with a hands-on, reality-based experience where they have to select a worthy charity and work with them to find out more about their work. All Year 10 students were involved in choosing a charity and presenting their case to their Tutor Group who voted on the best presentation to go through to the final.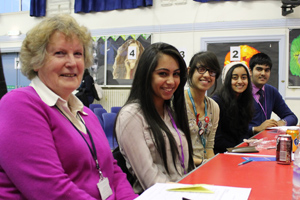 The final was judged by past winners of the competition, the Head Boy and Head Girl and Sue Welch a School Governor (pictured right). They had a difficult task selecting a winner from the seven Tutor Groups who pitched for the £3,000 prize that YPI provide for the winners charity. Presentations were made on behalf of British Heart Foundation – Hounslow, Hounslow Youth Counselling Service, Barnardo's, Friends of the Elderly and Sikh Welfare Awareness Team as well as the winners Trinity Homeless Projects who work to help the homeless and excluded.
Ms Mohinder Wassi, Year 10 Assistant Learning Co-ordinator and organiser of the competition, said: "I am really proud of my Year 10 students, they worked very hard with their presentations and delivered very well. They have contributed to our community and made a real difference to the lives of some local people in Hounslow. "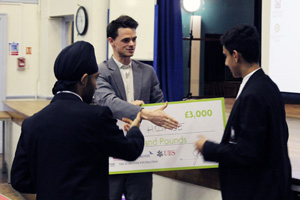 George Macpherson, YPI's Schools Co-ordinator (pictured right), said: "Students at Heston presented on their YPI charities with passion, dedication, sensitivity and professionalism and impressed both the judges and the audience with their efforts."