Jason Leonard OBE and Heston's Rugby Graduation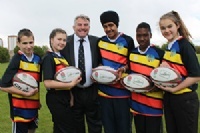 Rugby students graduate in CBRE All Schools programme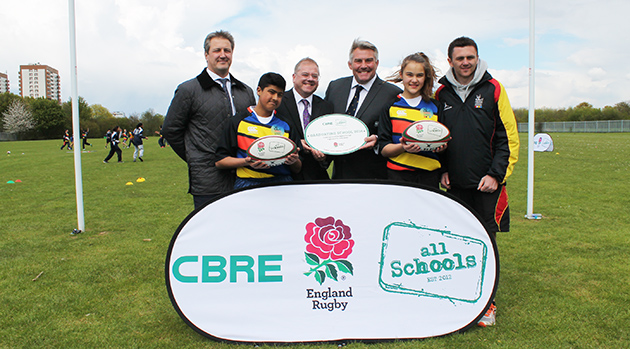 Heston welcomed RFU President Jason Leonard OBE, together with film crews and CBRE representatives for the presentation of a Graduation plaque to Head Teacher Phil Ward and PE Teacher and Rugby coordinator Stuart Howkins.
Heston's Graduation recognises three years of work to establish rugby at the School. No rugby was played at Heston prior to joining the CBRE All Schools programme and now both boys' and girls' teams compete against other schools in Years 7 to 10. The Year 8 boys had a particularly successful season culminating in them winning the Middlesex Emerging Schools tournament at Ruislip Rugby Club beating Cardinal Wiseman School in the final.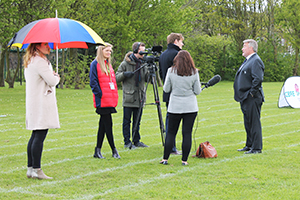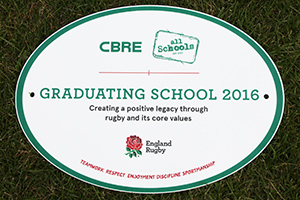 Jason Leonard said: "CBRE All Schools is an important legacy strand for the RFU in sustaining growth of the game. For Heston and the 99 other CBRE All Schools graduating from the programme, they should be immensely proud of what they have achieved over the past three years. I'm privileged to be part of the graduation celebrations today."
Stuart Howkins, commented: "Today has been fantastic. We have been working tirelessly for the last three years to get our students playing rugby. Now we have strong groups, both girls and boys, playing and enjoying rugby. The words on our plaque – Teamwork, Respect, Enjoyment, Discipline and Sportsmanship - sum up perfectly why we want to encourage rugby and why our students want to play rugby."
Follow this link to the CBRE All Schools England Rugby website to find out more about the day and the CBRE All Schools programme.