Word of the Week - Ardent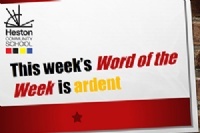 Ardent is the Summer Term's first WOTW
In our efforts to continue to develop students' literacy we have a 'Word of the Week' programme.
The 'Word of the Week' will be displayed in classrooms and around the school and will be used throughout lessons in order to ensure students are developing their vocabulary. Literacy achievement points can now be awarded to students for the correct usage of these words in all lessons.
The 'Word of the Week' for the week commencing 11th April is: Ardent.
Ardent:
1. Very enthusiastic or passionate about something.
Hassan as an ardent love of reading and literature.
2. Burning or glowing very brightly.
The ardent core of the open fire warmed the room and all those within it.
3. Fierce or angry.
They were afraid of his ardent eyes.
Synonyms: passionate, fervent, flaming.
Antonyms: apathetic, unexcited, cold.