A level Art Exhibition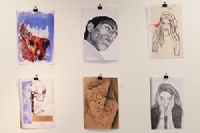 Hogarth Gallery showing A level students' work

The Art faculty (part of DART), are hosting a new exhibition in the Hogarth Gallery.
This exhibition features work from Year 12 and 13 A level students in Photography, Graphics and Fine Art. We are very proud of their achievements and look forward to sharing this success with staff and students.
The exhibition is open at break and lunchtime until Easter.
Click here to view a Gallery of Sixth Form Art