World Book Day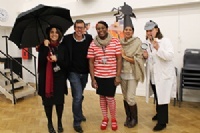 Jeff Norton made World Book Day very special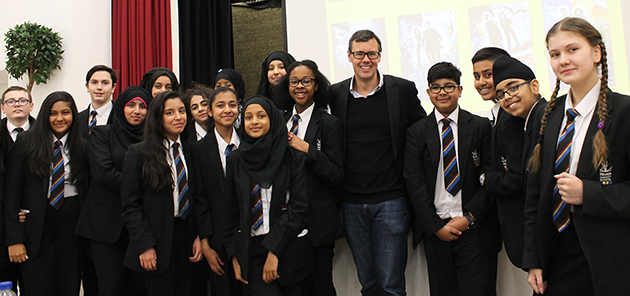 Award winning author Jeff Norton visited Heston Community School to celebrate World Book Day.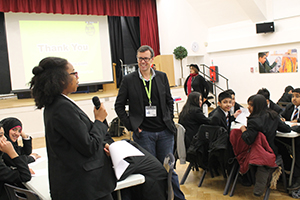 Jeff ran workshops with Year 8 students throughout the day where he explained that he had been a reluctant reader as a boy and his passion for creating stories that will turn reluctant readers into lifelong ones.
He talked about his award-winning MetaWars series for young adult readers and his new book Memoirs of a Neurotic Zombie.
Year 8 were exposed to Jeff's Zombie book in English lessons prior to his visit and were ready with lots to say during the question and answer session.
Yassin cheekily asked what Jeff's next book was about and whether he could feature in it. Jeff made Yassin's day by talking about Star Crest, a book he is currently writing, and went on to say Yassin was a perfect name for one of the characters!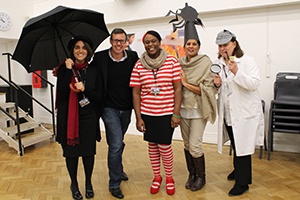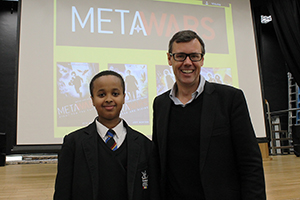 Wiktoria also thoroughly enjoyed the workshop saying: "I think it was really nice of him to answer my questions as well as he could. He was cool!"
Throughout the day students were shocked to see Voldemort, The Mad Hatter, Lady Macbeth, Sherlock Holmes, James Bond, Alice, Harry Potter, Hermione and many other literary characters roaming the corridors and even taking lessons as teachers became their favourite characters for the day.
Ms Sharan Birk, English teacher and Mary Poppins for the day, who organised Jeff's visit with Learning Resource Centre Manager Ms Veronica Hurley said: "It was a real privilege to have an engaging author like Jeff visit the school and really get the students thinking about the power of reading and its ability to transport readers to another world."