Engage - the latest Word of the Week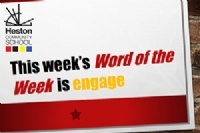 Engage is this week's WOTW
In our efforts to continue to develop students' literacy we have a 'Word of the Week' programme.
The 'Word of the Week' will be displayed in classrooms and around the school and will be used throughout lessons in order to ensure students are developing their vocabulary. Literacy achievement points can now be awarded to students for the correct usage of these words in all lessons.
The 'Word of the Week' for the week commencing 11th January is: Engage.
Engage:
1. To occupy or attract, particularly someone's interest or attention.
Example: Mahir attempted to engage his friends in a conversation about Blake's poetic techniques.
2. To participate or become involved in.
Example: She fully engaged with the Growth Mindset principles.
3. To enter into an agreement or understanding.
Example: He was engaged as a trainee copywriter.
Synonyms: Seize, occupy, commit.
Antonyms: Lose, dismiss, disengage.