Jack Petchey Award winners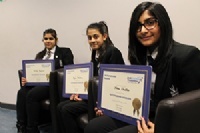 Well done Pardeep, Myah and Rhea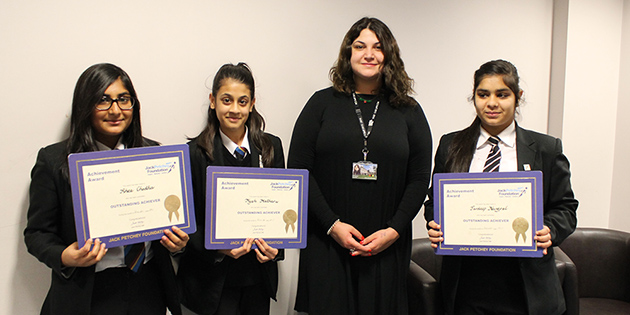 Congratulations to the Autumn Term Jack Petchey Award winners: Rhea, Myah and Pardeep who were presented with their Achievement Award certificates by Ms Holly Dinkha, Heston's Jack Petchey Coordinator.
The awards are funded by the Jack Petchey Foundation and are designed to celebrate the achievements of young people, as Jack Petchey says: "We do it because we want to help young people raise their aspirations, believe in themselves and make a contribution to their society."
A summary of the nominations for our winners together with what they have chosen to do with their prize money are detailed below: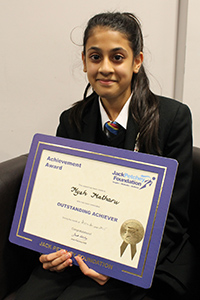 Myah Matharu 9B: Strongly encouraging of peers through her positive and helpful approach. Contributes to school life through participation in events and also gives up substantial time to serve on committees e.g. Marketing.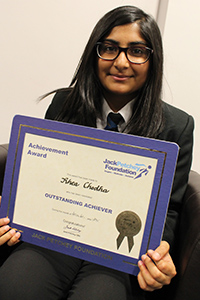 Rhea Chodha 9G: Strong contribution to the ethos of the School through her positivity and her resilience means she is never negative. Outstanding punctuality, attendance and attitude to all aspects of school life and an inspiration to her peers.

Myah and Rhea used their Jack Petchey award to go and see Matilda with a group of friends, Mr Lynn and Miss Bains.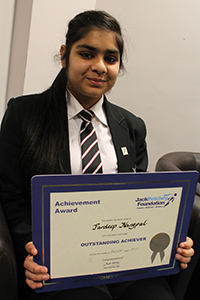 Pardeep Nangpal 10P: After moving to Heston from Afghanistan in Year 8 with no formal schooling, Pardeep has made exceptional progress and displays immense positivity. She involves herself in a wide range of activities, supports her peers and offers her support to staff and students regularly.
Pardeep will be having a Manga Art specialist come into school for an afternoon with her Jack Petchey reward.