Mahgul meets the Mayor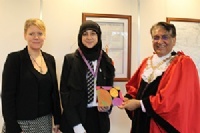 Mahgul's design was used on the Mayor's Christmas card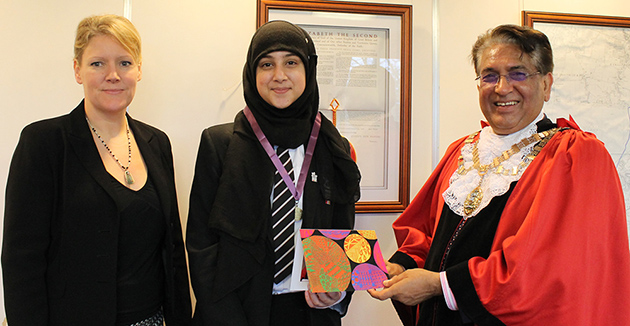 Mahgul Khan (10 Blue) met with the Mayor of the London Borough of Hounslow, Councillor Nisar Malik in the Mayor's parlour at the Civic Centre on Thursday 17th December and was presented with a Mayor of Hounslow Award medal.
The Mayor wanted to thank Mahgul for the design she created for the Mayor's official Christmas Card. Councillor Malik, following his visit to the school in October, had asked if the students could design this year's card for him.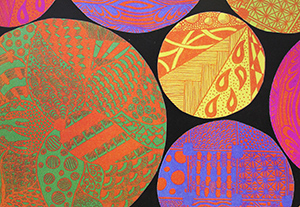 A competition to create the card design was set up by Ms Helen Wyglendacz – Director of Art (pictured above with the Mayor and Mahgul) which had over 500 entries. The Mayor was then presented with a number of "finalists" and he selected Mahgul's design (pictured right).
Ms Wyglendacz said: "We saw some amazing 3D designs, glittery retro style Santas and some lovely use of pattern and iconic Christmas symbols. It was very hard to shortlist the best, but the winner just stood out. Mahgul is dedicated to her Art studies and always put in a tremendous amount of effort. This paid off for her and her talent has been spotted by The Mayor."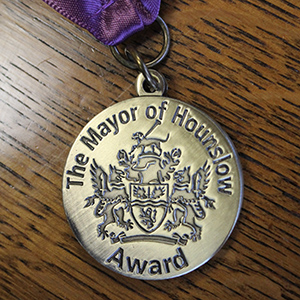 Mahgul thoroughly enjoyed her meeting with the Mayor and said: "It was great to hear that the Mayor has sent his card with my design to almost 350 people including the Mayor of London and all his fellow mayors. I couldn't believe it when I heard my design had been selected but I was delighted and was very pleased to receive my medal and meet the Mayor."