Basketball Girls - Borough Champions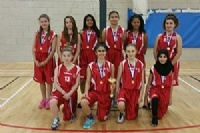 Well done to Year 7, U14 & U16 teams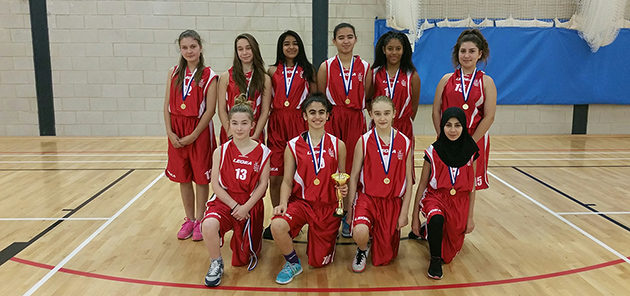 It has been a busy and very successful end of term for our Girls basketball teams with Year 7, Under 14 and Under 16 teams all winning key games. In the case of the Under 14 and Under 16 teams these results meant they became Borough Champions and go on to represent the Borough in the London Region Tournament.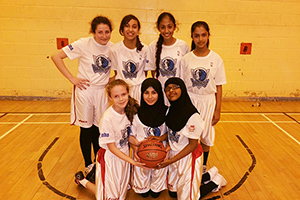 Well done to our Year 7 team, who are being coached by our Bethany Mann (Yr 11), Isha Purba (Yr 11) and Chanel Mubeen (Yr 12). They have only been introduced to basketball six weeks ago and they won their first game against St Gabriel's College in overtime 10:8. They have worked very hard and we are very proud of them.
This team is competing in the Junior NBA league where each school team gets kit from a NBA team. Heston will be playing as the Dallas Mavericks and they are pictured right in the Mavericks kit that they have been given.
Our U14 Girls (pictured at the top of the page) successfully retained their Borough Basketball Trophy on Tuesday 8th December at St Mark's School. Coached by Lara Hassan (Yr 10) they beat St Mark's 6 v 18 and Green School 32 v 0.
The whole squad worked well, showing resilience whilst under pressure to maintain their unbeaten record. There were outstanding performances from Captain, Sanna Hassan (Yr 8), Gurpavan Johal (Yr 9) and Wiktoria Kaczmarczyk (Yr 8). Our girls will now represent Hounslow against the other boroughs in London to compete for a place in the Final Fours.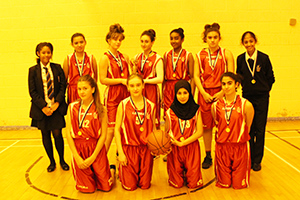 The U16 team (pictured right and in action below) replicated the success of the U14s in the Borough tournament on Wednesday 16th December with convincing wins against St Marks and the Green School. The team played some excellent basketball to retain the Borough Champions trophy. Now they are looking forward to their London Region games next term.