Speak Out Challenge!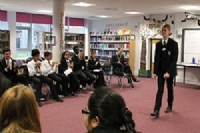 Jack Petchey workshop on public speaking for Year 10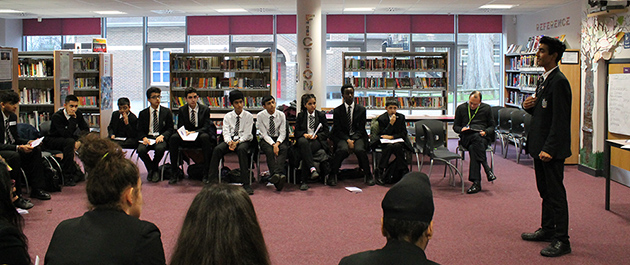 56 students from Year 10 were selected by their English teachers to attend the Jack Petchey "Speak Out" Challenge! Workshop. As part of this workshop students participated in speaking games and challenges in order to develop and refine their public speaking, a key life skill.
All students were focused and resilient in their approach to all tasks, which involved: learning how to think on their feet through games; learning how to prepare a speech; preparing a speech on a subject of their choice and delivering their speech with skill, confidence and enjoyment.
As a result of the success of this event the students listed below have been selected to perform their speeches in front of their Year group; two of the students will then go through to the School Assembly competition stage of the "Speak Out" Challenge at Chiswick School on the 25th January. If they win the School Assembly competition they will then go on to represent Heston as a Regional Finalist!
Congratulations to: Abdirisaq Mohamed, Ranveer Grewal, Jakub Saniukiewicz, Lara Hassan, Sara D'Jilali, Ajay Verma, Anmol Sihota and Gurpartap Saggu