Christmas is coming
Mahgul's & Maria's Christmas card designs are the winners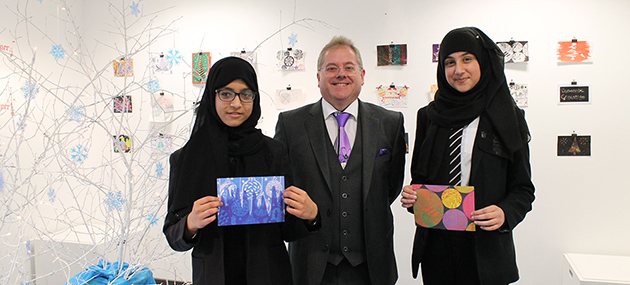 The Mayor of Hounslow and Mr Ward, our Headteacher, have both had cards designed for them this year by Heston students.
When the Mayor of the London Borough of Hounslow, Councillor Nisar Malik, visited the school in October he was so impressed with our students' artwork that he asked if we could design his official Christmas card this year. So the Art department organised a competition for all students to create an appropriate design for the Mayor and for the school too.
An impressive selection of "finalists" were presented to both the Mayor and Mr Ward and they then chose their "winners" who were Mahgul Khan (10 Blue) for the Mayor and Maria Zaman (9 Blue) for Mr Ward – well done to them! Both students with Mr Ward are pictured at the top of the page in the Art studio in Hogarth where the designs entered for the competition are on display.
Continuing the Christmas theme a MUFTI day to raise money for the homeless through Trinity and for refugees through Oxfam saw a wide range of festive attire from both students and staff including many Christmas jumpers ... and an impressive £1,081 was raised!
You can see more Christmas card designs and Christmas jumpers on our Galleries page by clicking here.