Rotary Youth Speaks competition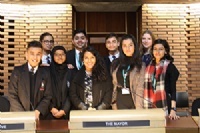 Miss Chandegra's report on two impressive Heston teams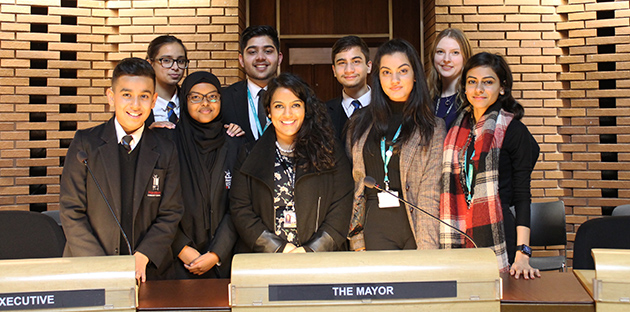 After only three and a half weeks of preparation, eight students bravely took part in the annual Youth Speaks competition, held by the Rotary Club. This year the first round was held at the Hounslow Civic Centre. It is a national competition which tests students' public speaking ability – in front of an audience comprising of all other competing schools (11 other schools this year – the largest crowd yet).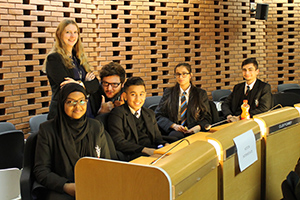 We were able to enter two brilliant teams who all performed exceptionally well on the night. The Intermediate team was made up of Year 9 students: Chair Person, Murtaza Haidary; Main Speaker, Muna Handule; Vote of Thanks, Manveen Arura; standby, Munum Butt. As Main Speaker Muna spoke convincingly about the undeserved success of 'Youtubers'.
This was followed by the Senior team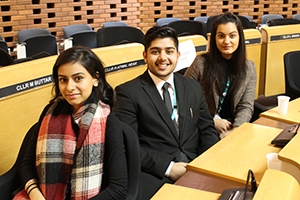 comprising of Year 12 students: Chairperson, Yash Panday; Main Speaker, Amrit Ghatora; Vote of Thanks, Karishma Bagga. Amrit posited more philosophical questions to the audience, focusing on the extent to which money brings one happiness. All speakers were a shining example of the talent hidden within our schools. Watching these young people take to the stand, so confidently, was one of the proudest moments a teacher could experience.
Once all teams had performed the judges adjourned to deliberate over who should win. It was during this time, this excruciating wait, that our teams reflected on how far they had come in just three weeks. For Yash the journey was even shorter – he had to stand in for Akash Khambay who had lost his voice just one day before the competition. Thus, it was during this moment of reflection they realised just how much more they could achieve.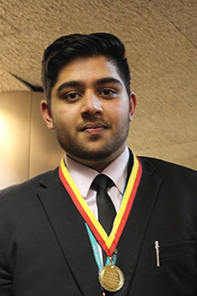 After what felt like an eternity, the judges returned with the results. Though we did not receive awards for either team's overall performance, the Senior team was awarded certificates for 'Best Chair Person' for Yash (pictured left) and 'Best Vote of Thanks' for Karishma.
Throughout this whole process, both teams showed dedication, maturity, and shone with brilliance. Though we were not awarded any trophies, on this night, these students had won for Heston.
Congratulations to both teams. Next year we're going back, even stronger.
Miss Joyti Chandegra – Assistant Curriculum Leader English