Poetry Competition winners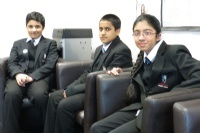 Congratulations to Zubair, Umayr and Kiren - read their winning poems here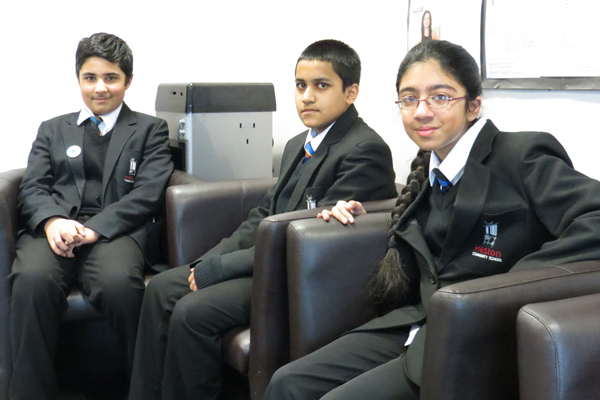 The winner and two runners-up in the English Department's Poetry Competition have been announced. The winner is Zubair Karmalkar and the runners-up are Umayr Qureshi and Kiren Judge.
English Teacher, Mr Shaun O'Keefe, who organised the competition and ran Poetry Workshops to help the students create their poems, said: "It was such a pleasure to read such well developed, mature poetry. We have such creative talent here at Heston and these three fantastic poems are representative of such talent! Watch out for Zubair, Kiren and Umayr – Poets of the future!"
Here are the winning poems: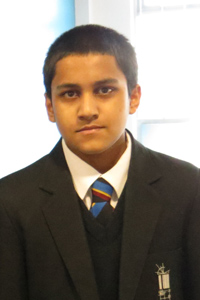 The Winner – Zubair Karmalkar – 9G
Zubair's poem is about a travelling artist who randomly bumps into a woman. Over some days he sees this woman repeatedly and eventually he finds out why this woman is following him.
This poem was selected due to the impressive maturity displayed. The poem intrigues and keeps the reader guessing. A thrilling poem!
Travelling Artist
In the square, I sat
With my pencil, paper and my bag on top of its mat
I sat drawing people without a second glance
Till one day, I had enough money to say' Auf Wiedersen' Germany and 'Bonjour' France.
My new residence was far from empty
The place I worked always had plenty
I was never alone, for ten minutes, at any one time
Until I heard the bell and its heavenly chime
In my spare time I looked through all my works
Some were pretty places, one the side of the church
People looked miserable for an unknown reason
But some told stories of heart break or of treason
Nothing much happened back in those days
Just doing what I did and sometime throwing in a phrase
Then so I had seen that something had blotted out the sun
Was it a friend or just a needy nun?
It took me one glance to see what she was like
Tall, short hair and dressed in white
Her hat held pretty flowered roses and perfect fruits
The time I had to see her came and had to shoot
As the days went by, there was no sight of her
Everything was in a hurry and I saw everything in a blur
Time was out and I had things to do
As I cleared my mind, the sky did to
I was back to my work of drawing faces
Talking to people and visiting places
It was my way of life, nothing to be wrong
Until I entered a certain café named after a certain song
The evening had come not too late nor too early
The lines I drew were bold or curly
My order came first before my patience
The time had come now to jot down my placements
With a bit of luck the very next day
The square was full, I was very proud to say
Not long until a lady came, I started to draw
I thought to myself 'I've seen this woman once before!'
The truth had been highlighted and was in the atmosphere
Was she a stalker or someone I could give my matters to share?
But I kept quiet
Not knowing what to do
My mind in a riot
It was like being in a zoo
I started to talk to her when she settled down
The sound around us started to drown
I etched her expressions with every last frown
This was too good to be true, so I headed out of town
I took the picture with me to see
If she had any resemblance to me
Was she someone I had tragically forgot?
Or someone I knew, but told about, not
She told me that she'd come back once more
Tensions and doubts went low, then went back to soar
Increasing amounts of questions came.
Were just random meetings from her or in a way a bit same
The truth came out on that spring night
We were by a lake with a beautiful sight
The truth came out, it was more of an ugly
Truth that came out, like trash more than dirty
It turned out she was more than just a walking talking blister
She was in fact my long lost sister
The mist that had been in the corner of my eye
Was the burden I had carried from a twisting lie
Far from what I thought
I was wrong to expect
Some jokes and a bunch of flowers, I bought
But she was still upset
We came to a verdict that we'd never ever meet
The last time I saw her was the last chance I had to meet
She walked away at her own free will
An office worker by day but at night had the license to kill.
The Runners-Up – Umayr Qureshi and Kiren Judge – both 7Y
Both of these poems provide the reader with an insight into raw emotions, offering a personal insight into the experiences of the young poets.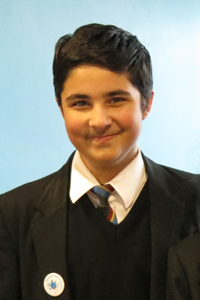 Umayr's poem
My Life
Hi ,my name is Umayr,
But nobody calls me by my name.
I have a family of 6,
2 sisters, a twin sister and a mum and dad.
Our family is very peaceful, but not completely religious.
My family does not swear nor fight,
But sometimes things go wrong.
I think that I am very lucky to be living like this.
I have a nice family and a nice home,
And I am thankful but my past could have been better.
Nobody likes me except for my family.
I didn't have any friends.
Except for old friends who swore at me a lot.
I have a pet called whitey,
And sometimes I think that my sister likes him more than me.
I love my family including my cat,
And I know they love me too.
Sometimes people think that it is fine to pick on the weaker ones,
But my mum used to say that they pick on the weaker ones because their life is too boring and they wants to be in mine.
I know that it is not true.
Their lives are way better than mine, in a way but sometimes I just forget them and I am happy.
Some people think that I can sing very well … Some of my primary school classmates thought otherwise.
I get shy around new people,
Because I don't want them to think bad of me.
I am the kind to want people to like me for who I am even,
If it means not being liked by that person.
I like when people like me for me,
It means that I am a good person.
I like music,
It lets me express myself,
And also feel alive.
I like to sing because it makes me feel happy,
And also energetic.
I am proud of myself for all that I have achieved so far,
And hope to achieve more.
Words can't even explain how my primary school life used to be.
Nobody could say my name right,
Nobody was my friend,
Everybody used to make fun of me,
That's all.
Nursery was fine because I didn't know what was going on,
But then it got worse!
People learnt new swear words and decided to try them out,
On me!
Finally we left and came to Heston,
Where everything changed!
I began to make friends,
Now all that is over,
I finally have a fresh start.
I am now free
This is me.
Kiren's poem is about her Grandfather who passed away when she was five.
Kiren said: 'I actually saw him fall...dead on the floor. We were playing a game of Hide and Seek, I said to him, "Say the numbers in English, Please." I went to a hiding place and wondered what took him so long. I went to the place where he fell. There he was...permanently asleep.'
To you
A Rose for you,
Maybe one for your grave too?
A hug for me.
Remember, when we had tea?
You gave me a kiss and I wish it lasted forever,
We had never said never.
You helped me in everything,
I was the Princess and you were the King.
We made up our own adventures,
Went to the moon,
Galaxy,
And even your arms.
We were the best buddies ever,
But now I'm all alone.
I watched you fall,
I felt your pain.
You would catch my tears cry every night,
I can still see you,
Tucking me into bed ever so tight.
But, who will do that now?
I can still see your soul looking at me,
Receiving Awards.
You were clapping and cheering for me.
Even throwing roses to me on Stage.
I'm the one doing that now...
Putting roses...
On your grave...
What would I do without you?
I can't go on...
We did EVERYTHING together...
Now, we're not even a duet anymore,
Just me...
Getting soaked in the pouring rain
Without your soft hands holding the umbrella above me...
Called me your Little Princess:
Now I'm just a Princess working as a servant,
Without her 'King'...
I'll always be your little Princess...
Just locked up in her tower...
With a broken heart no-one can fix...
Only my Grandad can fix it...
If he comes alive...