Word of the Week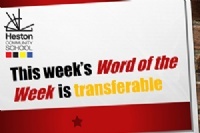 This week it's TRANSFERABLE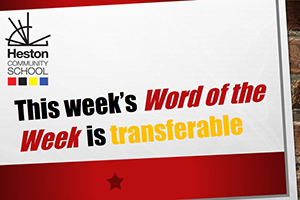 In our efforts to continue to develop students' literacy we have a 'Word of the Week' programme.
The 'Word of the Week' will be displayed in classrooms and around the school and will be used throughout lessons in order to ensure students are developing their vocabulary. Literacy achievement points can now be awarded to students for the correct usage of these words in all lessons.
The 'Word of the Week' for the week commencing 30th November is: Transferable.
Transferable:
Meaning – Something that can be moved from one place, person or use to another.
Examples:
This ticket is not transferable (it may only be used by the person who has bought it).
We aim to provide our students with transferable skills (that can be used in different jobs)
Synonyms: interchangeable and negotiable.
Antonyms: fixed and nontransferable.