Cultural Fusion Show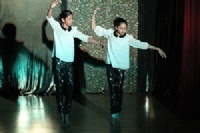 Read Nimasha's review of a great show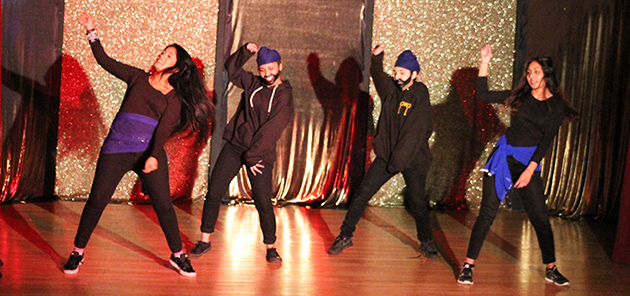 As well as performing two evening shows for students, parents, teachers, family and friends this year's Cultural Fusion Show acts also treated students from Heston and Westbrook Primary Schools to a matinee performance as well - judging by their reaction (right) they thoroughly enjoyed the show!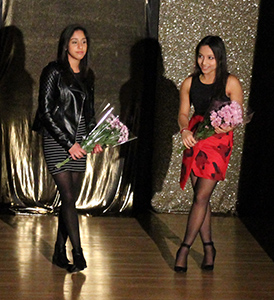 Congratulations to all the acts, the backroom team and all the students and teachers who made sure this year's Cultural Fusion Show was such an excellent show. Two people who are deserving of a special mention are Sixth Form students and Head of Events, Samina Anand and Saina Kanwar – co-organisers of the show (pictured left). Mr Evans, Sixth Form Learning Coordinator, said "They did a great job and put in an incredible amount of hard work and time over a 4 week period. The show would not have been possible without them."

Click here to view more images from the show on our Galleries page.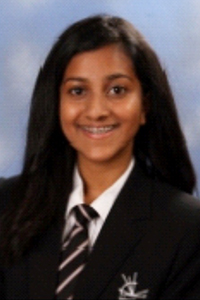 Nimasha Kuruppu from 11 Purple was our reporter for the evening show ... here is her Review:
Nimasha's Review
Last Tuesday night, the school hall was packed with students, teachers and parents all here to see our fellow pupils perform. Students from all year groups took part this year, even a couple of teachers too! All working extremely hard to put on the best Cultural Fusion Show Heston's had yet!
All talent showcases, from The X Factor to Heston's Cultural Fusion Show, have one thing in common; a team. A team of hardworking individuals, whose time, effort and energy had been put in to make the show a success.
That is exactly what Year 13 students Avani Gupta and Amman Singh had produced - a success. However, directing a show isn't all fun and games Amman Singh explained, "We didn't realise how stressful and time consuming it was. I've never sweat so much in my life!"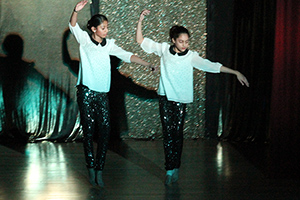 Nevertheless, they all agreed that the freedom they were given when organising the show had been the best part; "It's student led so we get to organise this, there's no teacher telling us what to do! The responsibility may be on us but it's definitely worth it."
The evening began with an upbeat solo performance from Anup Bhullar playing the dhol drum. He opened the show with a bang and certainly got the audience pumped for the rest of the night!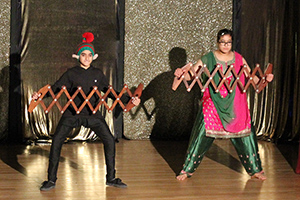 Next on came Year 8's gorgeous Tanisha Anand singing Jessie J's Flashlight magnificently. Then entered Taran Gill and Jasleen Guru, also known in the past for their high spirited bhangra dancing but not for Taran's comical elf hat which he wore throughout the performance! Komal Soni, in just Year 7, took to the stage next with the One Direction hit single Drag Me Down. Bubbling with confidence she not only pleased the ear but also the eye with creatively thought out hand actions as she sang. Another stunning dance routine was performed this time by Atiyaah Ana and Puneet Bansal. Next on we had Sixth Form's Fabian Chopra flashing his piano skills as he sang a mashup of popular songs such as Drake's Hotline Bling and Justin Bieber's Sorry. It's safe to say the audience more than loved his performance!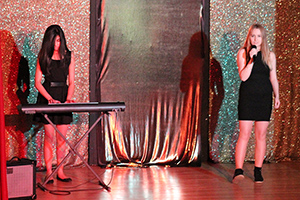 After this we had on a different type of school band ... the Teachers band! Mr Evans was on the guitar, Mr Pearson played the drums and Ms Reid belted out the hit song Shake It Off! The students in the audience's jaws dropped as they heard their own teachers completely nailing the Taylor Swift anthem. After this we had two of three hosts – Anisha Kanwar, Hollie Newman and Umayr Qureshi (who were fabulous hosts!) - from the evening performing too. Anisha and Hollie sang with a piano Ella Henderson's Yours. Another set of Year 10's performed straight after with a hip hop dance routine. Noor Nisar, Mehak Ansari and Simran Tejal showed of their dance moves with a mix of songs such as Dawin's Dessert and Beyonce's Yonce.
The organising team's very own Amman Singh slowed down the show a bit with her beautiful cover of John Legend's All Of Me. The audience was left in awe as she belted the song out wonderfully! But the show wasn't done yet, Pavneet Bansal showcased her dancing talents to the song Sun Saathiya. After this we had Year 11's very own Indhi Gupta with his own rendition of the popular song Do It Again by Pia Mia accompanied by Mr Evans on the guitar. This incredible performance left the audience jumping to their feet as he finished! The Year 13's took to the stage next performing a dance routine with a twist! Amman Singh, Isra Sheikh, Gagandeep Bansal and Maria Mateos turned dressed up as two guys and two girls and told a hilarious story through dance which left the audience in stitches! Last but not least a group of five; Fabian Chopra, Ajeet Matharu, Taran Gill, Karan Bains and Anup Bhullar ended the show playing the Dhol Drums forcing the audience to their feet!
This certainly was a night of Cultural Fusion! Who knows what will happen next year?