Yasmin Alibhai-Brown talks to Year 10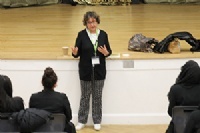 Journalist and Author encourages students to pursue their dreams

International journalist and author Yasmin Alibhai-Brown was invited to school talk to Year 10 girls about her life and experiences. A regular columnist for The Independent, and contributor for The Guardian, The Times and The Daily Mail as well as a regular on TV show The Wright Stuff, Yasmin was incredibly candid about life as an immigrant; family issues and many obstacles she has overcome to shape the successful person she is today.
Ms Sharan Birk wrote to Yasmin after reading her article "Dear Auntie Yasmin" in The Sunday Times where she revealed that being an outspoken feminist and left-wing liberalist had seen her inadvertently become an agony aunt for many distressed young men and women.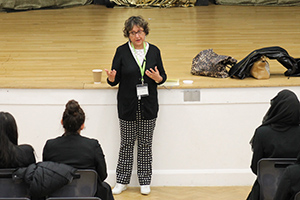 Ms Birk said: "I felt strongly that students would benefit from hearing about the issues other young people face in their own communities and in society at large. Much of what Yasmin spoke about really resonated with the students and opened up into an interesting question and answer session."
Yasmin left students with a message to pursue their dreams, have faith in their abilities and to share rather than internalise issues.