Spooky Story winners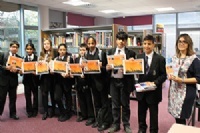 Well done to all entrants - particularly the winner Harmandeep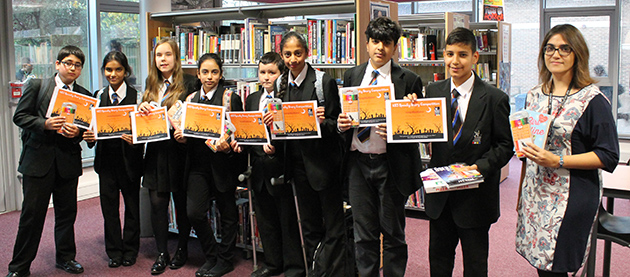 In the lead up to Halloween and as a fitting end to the Year 7 unit of work on Introduction to Gothic, Year 7 and 8 pupils were invited to enter their own Spooky Story of no more than 500 words into a competition.
Ms Sharan Birk, who organised the competition for the English Department received an overwhelming response of over 125 entries. She said: "All of the entries proved to be very imaginative, creative and thoroughly entertaining. I was incredibly impressed and proud of our students – the only difficult part was having to sift through these entries and select a final 13!"
The competition was an opportunity for students to really write for pleasure and incorporate key skills learnt in English. This resulted in some carefully crafted work across the board. The winning entries were chosen by a judging panel which included Ms Birk and Ms Hurley (LRC manager) and it was far from an easy task.
In the end however, the final entries were selected for their originality and power to truly terrify the reader.
Prizes and certificates were handed out on Friday 13th November in the Learning Resource Centre.
The winning entries will be compiled in an anthology which will be available before Christmas – some of these stories will then be featured on the website.
Well done to everyone who entered the competition and particularly to the following students who all received certificates and prizes for their Spooky Stories:
WINNER: Harmandeep Tak (7O), SECOND PLACE: Isha Gurung (7P), THIRD PLACE: Kobie Griffith (7R)
10 runners up: Sonia Lal (8P), Puneet Bansal (7P), Jaskirat Bhangu (8W), Zoya Ali (7Y), Danyal Nabi (8B), Mufazzal Ahmed (7G), Palvinder Sarai (8G), Shriya Ediga (7W), Karan Bains (8P), Wiktoria Malkowska (7Y)