Word of the Week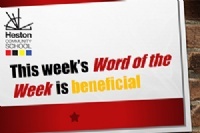 'Word of the Week' week two - BENEFICIAL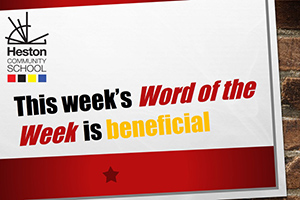 Week two of 'Word of the Week'.
The 'Word of the Week' will be displayed in classrooms and around the school and will be used throughout lessons in order to ensure students are developing their vocabulary. Literacy achievement points can now be awarded to students for the correct usage of these words in all lessons.
The 'Word of the Week' for the week commencing 9th November is: Beneficial.
Beneficial:
Meaning – Improving a situation; having a helpful or useful effect.
Examples:
A good diet is beneficial to health and therefore beneficial to learning.
They finally came to a mutually beneficial agreement.
Synonyms: Advantageous or favourable.
Opposite – Detrimental (damaging).