Welcome to two Mayors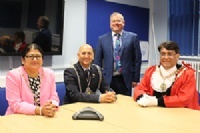 Mayors of Kingston and Hounslow at Sixth Form Assembly

Heston Community School welcomed two mayors on Wednesday 21st October when the Mayor of the Royal Borough of Kingston upon Thames, Councillor Roy Arora returned to his old school to address the school's Sixth Form students. He was accompanied by his wife Mayoress, Mrs Manisha Arora as well as the Mayor of the London Borough of Hounslow, Councillor Nisar Malik.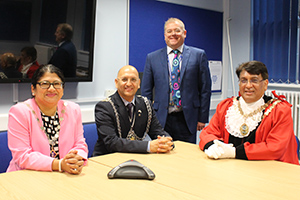 Headteacher, Phil Ward introduced all three visitors to a Sixth Form Assembly and both Mayors spoke to the students before having a tour of the school.
The Mayor of Hounslow spoke briefly about his role as Mayor and made it clear to the students that they could achieve amazing things if they wanted to.
The Mayor of Kingston continued this theme after saying he was very honoured to be back at Heston … but never thought he would be. He reflected on his last day at Heston Community School which he remembered clearly as the Headteacher then, Mr Moulton, told them that they could be "a world-class athlete, a head of industry or a future Prime Minister". Mayor Arora explained that he was "a shy Heston boy, not the brightest, not the most athletic, not a great award winner but I did study very hard" and he encouraged Heston's current students to do that too.
He concluded by saying: "Have faith in yourselves, value and respect your friends and family and work very hard but have fun too … and you may be a future Prime Minister."