Japan's Rugby visitors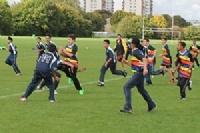 Japan's 2019 World Cup Organising Committee hear about rugby at Heston

A group of Japanese visitors from the 2019 Rugby World Cup organising committee together with representatives from the RFU and World Rugby visited Heston to find out more about the All Schools' Rugby partnership at HCS which has seen rugby introduced to the school for both boys and girls.
The visitors heard Mr Stuart Howkins who is responsible for rugby at Heston and Headteacher Mr Ward describe how within two years rugby has taken off at the school. Heston has gone from no established rugby teams within the school to having boys' teams in Years 7, 8, 9 and 10, and a girls' junior and senior rugby team. The success of rugby at Heston is largely due to the commitment of students who have given up there time to learn a new sport. Numbers at training on Wednesdays and Thursdays continues to increase as students are looking to try something different.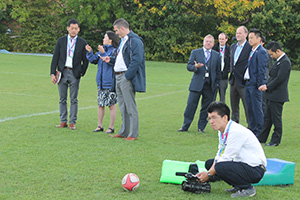 The visitors to the school took the time to visit a Year 8 rugby lesson taking place on the field. This gave them a chance witness how rugby is being taught in the school and to ask questions about some of the barriers that the school has had to work through to establish rugby in a school with no tradition of playing rugby. The Japan RFU is looking at ways to grow rugby replicating a similar schools' rugby programme in Japan.
"You have provided a very good example of what rugby can do for your young people and the difference it can make to their lives." - Morgan Buckley, World Rugby, General Manager – Development.
One particular area of interest to the Japanese guests was how the school manages the physical contact side of rugby (tackles, scrums, rucks and mauls). Although rugby is a physical sport the students are taught the game through five core values (Teamwork, Respect, Enjoyment, Discipline and Sportsmanship). These values help to make a supportive learning environment where students feel comfortable. Encouragingly many of these values have then been adopted by students into their daily school routines.

"Since playing Rugby I've learnt to work as part of a team and my communication has improved too and confidence in myself." - Year 7 Student
To measure the impact of the All Schools' rugby programme, Sheffield Hallam University has conducted a survey with students that have taken part in the programme. The results were far more positive than expected and have helped to show the importance of taking part in physical activity to support students' academic achievements.
94% are taking part in physical activity more often or for longer periods.

91% have improved skills for when they leave school.

82% are more confident as a result of taking part in the rugby programme.

76% are highly likely or likely to recommend taking part in rugby union to their friends.
"I can focus my aggression in the game and I get more fitness and friends from playing as a team. Also my concentration has improved and so have my grades." - Year 9 Student
Rugby continues to grow within the school at a rapid pace, the quality of rugby being played improves with every game. As students' interest increases, so has their desire to want to play rugby. This has seen a number of students taking the next step of playing rugby outside of school for local clubs. At present the school has a partnership with Staines Rugby Club. All students are welcome to take up this opportunity to play and should contact Mr Howkins in the PE Department for more information.