Head Boy and Girl appointed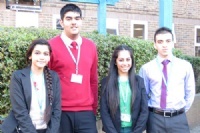 Congratulations on their appointments to Amarjot, Tania, their Deputies and the nine Senior Students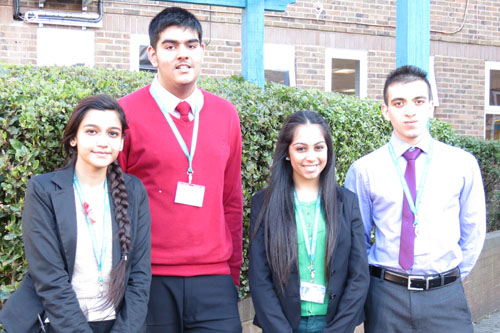 Following interviews and presentations the following students have been appointed as Head Boy and Head Girl and their Deputies.
Head Boy: Amarjot Rehal
Head Girl: Tania Nizzar
Deputy Head Boy: Amandeep Singh
Deputy Head Girl: Zarah Mowhabuth
They are pictured above and are, left to right, Zarah, Amarjot, Tania and Amandeep.
The following students have been appointed as Senior Students:
Medina Shabani, Samryan Matharu, Karishma Miah, Avneet Sekhon, Deep Barchha, Aman Mangat, Renuka Varma, Gursymran Kalra-Phull and Priya Loi.
These students will all play an important role in the School over the next year acting as role models to the whole school. They will also be actively involved organizing student events and helping Teachers at school events.
The competition for these prestigious positions was very fierce and the students' presentations were very impressive as were their performances in interviews with Mr Smith, Deputy Headteacher and Mr Evans and Ms Hartley, Assistant Learning Co-ordinators for the Sixth Form.
Congratulations to all of them!