Open Evening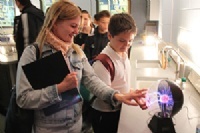 "A great experience ... we were impressed" - Visiting Parents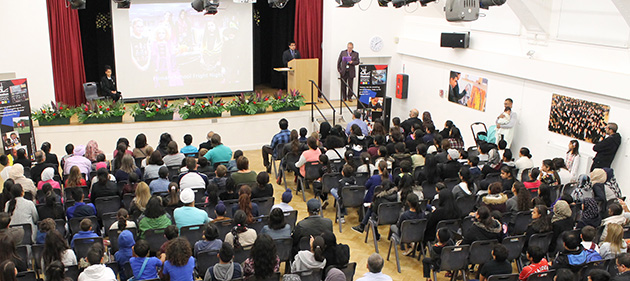 Families from over 30 primary schools attended Heston's Open Evening on Thursday 1st October and enjoyed a hands on tour of the school when they were able to take part in a drama production, make some music, carry out experiments and be creative in Art and Design Technology.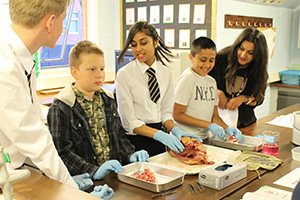 Visitors packed the School Hall to hear Headteacher Phil Ward talk about putting students first in everything Heston does "to help students go beyond expectations to achieve their full potential." Two of these students Myah from Year 9 and Head Boy Kumail then gave their view of life at Heston.
Myah, rather surprisingly, started to talk about how disappointed she was to be starting at Heston in Year 7 (she had wanted to go to another school) but she then went on to explain how she changed her mind very quickly and concluded by saying "I am so glad I came to Heston!"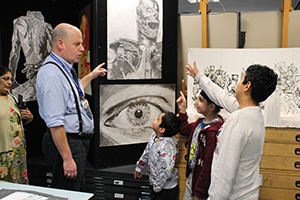 Kumail talked about the opportunities he has had at Heston and the great variety of trips and activities that take place and enhance the whole "Heston experience".
Mr Ward then looked forward to 2021, the time next year's new starters would be getting their first public examination results, and made some predictions that saw Heston's examination results continue to improve as did the students' generosity in their fund raising and their involvement in an enormous range of clubs, societies and sports. He went on to say he needed students help to make this a reality:
"So to the potential students in this room I will conclude by saying. Look around this School, talk to our students and teachers and ask yourself: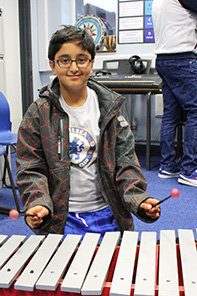 Do I wish to join School where I will be challenged to achieve more than I think I can today?
Do I want to take part in learning from others and supporting and helping other people to first recognise then overcome their limitations?
Am I ready to take responsibility for my own actions and destiny?
Will I accept the help, support and encouragement of others to achieve my potential?
If your answers are yes, then you are already the Masters of your Fate and future Hestonians."