Physicists of the Year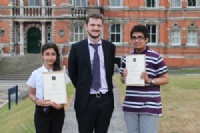 Congratulations Kumail & Riya - Royal Holloway University's Physicists of the Year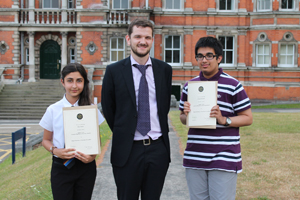 Kumail Kermalli (Year 12) and Riya Samra (Year 9) received Physicist of the Year Awards from Royal Holloway University in July. Kumail and Riya were accompanied to the Awards Ceremony at the university's Egham campus by Mr Stuart Newton (Assistant Curriculum Leader for Science). Mr Newton (pictured right with Riya & Kumail) nominated both students for this award and detailed below are his comments that were included with their nominations.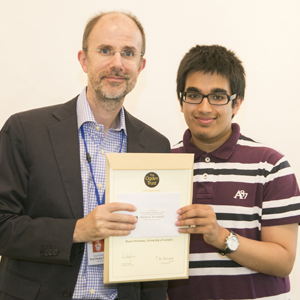 Kumail has been enthusiastic in his approach to his Physics studies throughout Year 12. He has lead study groups with his classmates and shared resources that he has found with other students. He also helped undertake research into a Physics trip for the class for next year. His practical skills have improved substantially which led to excellent results in his coursework. He has been keen to attend evening lectures organised by the Institute of Physics. He has an interest in medical physics and hopes to study this in the future.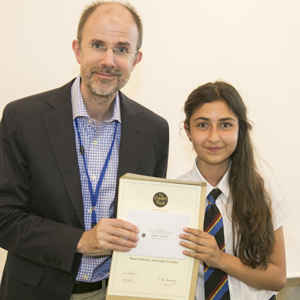 Riya has demonstrated a mature approach to her studies this year. She has risen to every challenge and has shown an ability to reflect and act on her strengths and weaknesses. She has been determined to gain a deeper understanding of electrical circuits and created an excellent report which compared and evaluated different models of electrical circuits. She also helped less confident students in class to learn how to construct and describe processes in circuits.
Well done to both of them!