A Brilliant Celebration Evening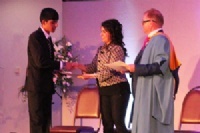 Congratulations to all our Award Winners!

The Hounslow Civic Centre was once again the venue for our Celebration Evening when students and staff are rewarded for their work, achievements and contributions to the School throughout the year.
As well as the presentation of these awards the audience of students, parents, friends and staff were entertained by singers and musicians and enjoyed a buffet provided by Guest Speaker Dipna Anand's (pictured below left) restaurant, Brilliant.
The evening started with hosts Zahra and Aman, previous Head Girl and Head Boy (pictured above centre) welcoming everyone and introducing our Dhol Drummers who set the tone for an upbeat event.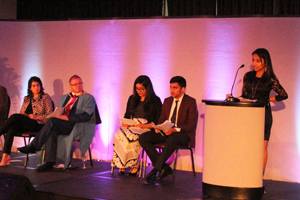 Sixth Form students Samina (pictured right) and Kumail talked about specific work they had done and the opportunities that exist at Heston. Samina has been instrumental in raising awareness throughout the school about forced marriages. Kumail talked about how the School was recently recognised as being outstanding as well as the opportunities that exist with the range of the trips and clubs. He concluded by saying "I feel extremely lucky to be a student here … it's a great community school".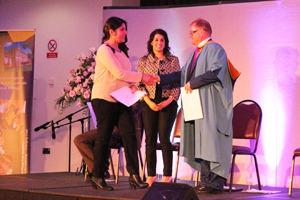 Headteacher, Mr Ward then talked about the secret to running a great school … "get the best people and get them to teach about their passion". He thanked students, parents, staff, governors and friends for their great work and support. He also promised that Heston would continue to be a great school and adapted a Ronald Reagan quote to say "the best days lie ahead … you ain't seen nothing yet!"
The awards and entertainment continued – click here to see the evening's programme which details all the award winners and entertainers.
Dipna Anand, who is a past Heston student, spoke about her time at Heston and her ambitions as well as congratulating all the award winners and encouraging them. She stressed that it was "important to find where you talent lies" and to "reach for the stars, overcome any barriers and visualise your success".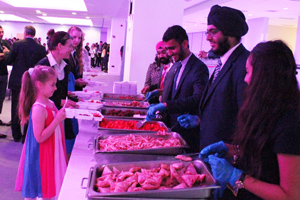 She has done just that after winning the national award for the best Food Technology project when she was at Heston she is now running her family's restaurant as well as lecturing, writing cookery books and running her own Cookery School.
Congratulations to all our award winners!