Sports Personality of the Year
Congratulations to all the award winners!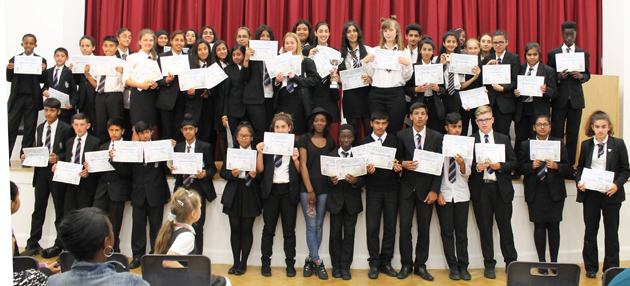 Heston's sports stars were rewarded for their sporting success throughout the year when the PE Team hosted the annual Sports Personality of the Year Awards on Thursday 9th July.
Students accompanied by parents and friends heard of the achievements of individuals and teams in Basketball, Cricket, Football, Netball, Rugby and Rounders.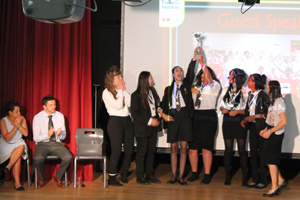 Player of the Year and Most Improved Player awards were made in each Year Group followed by an Overall Winner for each sport. Teachers outlined the reasons for the awards and in many cases explained just how difficult it had been to select the award winners due to the excellent performances of many of the students throughout the year.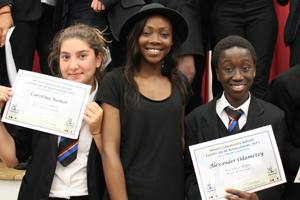 Asha Msaaba (pictured left), a former Heston student and England international basketball player, spoke about her time at Heston and her sporting career as well as congratulating all the winners.
Following Asha's speech, as the evening drew to a close, the final awards were presented for GCSE students of the year and to nine students for their "Outstanding Contribution to Physical Education".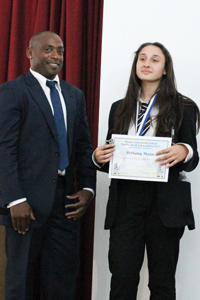 Click here for details of all the award winners
The final award was the Sports Personality of the Year the result was announced in reverse order … in 3rd place – Sofia Javed … in 2nd place Aman Parmer … and the winner was Year 10 student Bethany Mann. Bethany has been a key basketball player, reflected in her selection in the England U15 squad. She has also coached a junior team. She is very versatile and talented not only in the sports arena but also as a singer – she provided the musical entertainment on the night singing a duet with Kimran Sangha.
Congratulations to all our award winners and to the PE Team for hosting the evening so well.