Year 8's impressive start to the cricket season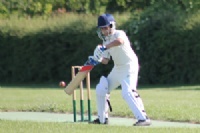 A good team perfomance to beat Lampton

The Year 8 boys got their cricket season off to a flying start with a victory over Lampton School on Thursday 4th June.
Lampton won the toss and chose to bat first, putting our bowlers and fielding to the test. A very tight bowling display from Vaibhav Bharatkumar, Bilal Sheikh (in action above clean bowling a Lampton batsman), Karan Mahay, Jaskirat Sachdeva and Mohammed Hamid limited Lampton to just 49 runs all out.
Excellent deep fielding by Solomon Viegas and Ninieck Vohra helped to cut out certain boundaries. Following this, a confident batting performance by Karan and Vaibhav (pictured below scoring runs off the Lampton bowlers) saw the team reach the winning total of 50 runs in 8 overs.
Well done to both teams for a competitive game of cricket, played with great sportsmanship.